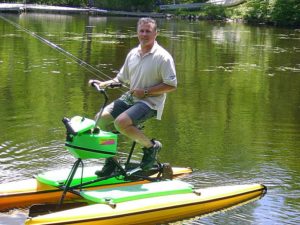 "I Am 100% Committed To Giving You The Best Price & Service On Water Bikes By Hydrobike!"  John Rakush
You should be hesitant to purchase products on the internet from a guy you've never met before. Rest assured that I've worked hard since 1989 to gain your trust, deliver on promises, make you comfortable, and take the worry out of your decision. I don't expect you to take my word for it. Perhaps my customer's comments may help. All of them were once in your shoes … unsure about doing business with this 'Hydrobike Guy' they met on the internet. I absolutely love Hydrobikes and know you will too.
Many customers have kept in touch over the years and continue to tell me this was one of their best buying decisions ever.
"I love my HydroBike and consider it in the category of one of the greatest purchases I have ever made in my life." ~ Robert Thayer, Illinois
Water bikes by Hydrobike will provide many years of eco-friendly family fun, and fitness. Everyone from 8-80 can enjoy the benefits and wellness experience of Hydrobike Explorer. Call me at 1-888-403-9012 to learn more about our water bikes or to make a purchase.
John Rakush, The Hydrobike Guy
Hydrobikes Inc.
Phone: 1-888-403-9012
Email: john@hydrobikes.com