Whats Inside This Edition
-- Hydrobikes Description
-- Keeping your Hydrobike healthy. (And you happy!)
-- Avoid Theft of your Hydrobike.
-- Hydrobike Special savings.
-- Hear what my customers are saying.
-- Earn $$ with your Hydrobike.
-- Thought for the day...
Feedback From Customers:
(hear more)
*"John: I have never given a testimonial to any person or firm in my life. I now feel compelled to do so. My experience dealing with you and your firm was the best I have encountered to date. It proved in the long run to be no more trouble than a trip to the convenience store. The bike I ordered was honestly represented. It was fully serviced and properly packed for the trip. If you have anyone who needs a little encouragement send them to me." Tom McMillan SC
*"John: My experience in dealing with you has indeed been the most pleasant I ever recall. I will do what I can to stimulate some business for you. We will keep you posted". Kay Dieter, Susanville, CA
~~~~~~~~~~~~~~~~~~~~~~~~
WELCOME
to this edition of
'Hydrobike News'
from Hydrobikes Ontario.
For first time visitors, and those of you unfamiliar with Hydrobikes, 'kids' from 8-80 enjoy Hydrobikes.
My goal is to ensure your complete satisfaction with your Hydrobike purchase and your experience with Hydrobikes Ontario.
I offer you
Guaranteed Lowest Prices
on genuine Hydrobike product, along with extra value for each and every customer.
Hydrobikes Ontario is an independent, customer driven, worldwide Hydrobike supplier, specializing
exclusively
in Hydrobike Explorer waterbikes and genuine Hydrobike parts. Our success has been built on integrity and by our 'customer first' attitude. We are proud and feel privileged to serve customers from US State Parks, Canadian Conservation Lands, to Seniors, to Resort and Rental Outlets throughout the US, Canada, & Europe, and many folks in between.
I have tried to provide you with all the information you need to make an informed decision on
my website
. You can order Hydrobikes online there, and enjoy
real time
credit card transactions, with purchases approved in seconds. Or you can pick up the phone, and call me with your credit card order.
Please feel free to contact me at 1-888-403-9012 to order, or to speak to me personally. You can also
email me
with any questions, to order, or just to say hello. I am here to help you sort through all the Hydrobike information out there, and to serve you in any way I can. Contact me anytime!
Introduction to Hydrobikes:
Hydrobikes give you true biking on water. A quality aluminum bicycle frame is mounted on a set of catamaran style, seamless polyethylene pontoons. When you pedal, a steel chain drives a 94% efficient propulsion system which spins a propeller almost 9 times for every pedal revolution. This gives you whisper quiet operation and 5-6 mph of cruise speed. That makes Hydrobikes great for bird watching, and gives fisherman the ability to sneak up on wary fish. Pedal forward, pedal in reverse, its' easy, and there are no gears to worry about. Hydrobikes operate just like a regular bicycle. And they come with a handy storage console that holds ice for drinks, or serves to stow away clothing and food.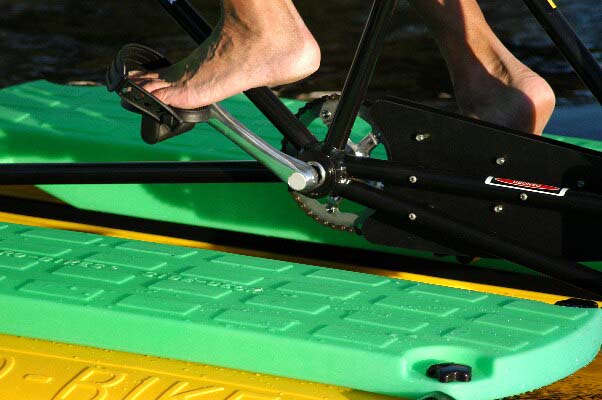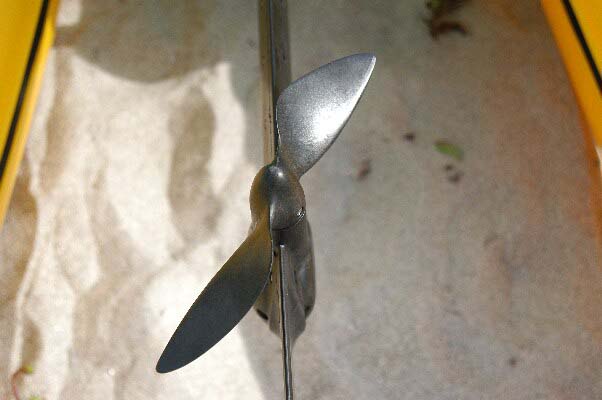 In fact, Hydrobikes are easier than riding a bicycle. Those who cannot ride a bicycle are thrilled to be able to ride a Hydrobike. They are almost impossible to tip. They offer complete stability and can handle up to 400 lbs. in rider and cargo. You don't even have to get wet to enjoy Hydrobikes.
Hydrobikes are great fun, and a perfect fit for those interested in fitness or weight loss. The health benefits rival those of aerobics, with no sweat required. The 'workout' is safe and low impact...and you never have to pedal uphill!
Hydrobikes are safe, and easy to ride for Seniors and grandkids alike. Your dog will love them too.
Hydrobikes are unique, innovative, and famous for long life!
Quality and innovation is evident in every feature. Hydrobikes are simple to assemble and disassemble without tools. Everything from assembly to maintenance is covered in the owners manual. They weight about 120 lbs. and can be transported without a trailer, truck, or van.
These pedal powered mini pontoon boats will attract attention wherever you go...especially when you cruise by all those filling up at the gas pumps!
The upright sitting position beats canoeing, kayaking, or pedal boats for comfort, speed, and enjoying the scenery. You get a great vantage point for underwater viewing too. Its nice to be able to stand up and stretch, or jump in to cool off. Great stability allows you to do that and more.
Contact me
anytime to learn more about Hydrobikes.
Keeping a Hydrobike healthy.
~~~~~~~~~~~~~~~~~~~~~~~~~~~~~~~~~~~~~~~~~~
Hopefully, you owners have been oiling your chain and taking good care of your Hydrobikes. Fortunately, for those a little less attentive, your Hydrobike is quite forgiving.
Simple oiling of the chain once a week, (every couple of days in salt water) will keep your Hydrobike running pretty well. I might add that in salt water, it is a good idea to give your Hydrobike a good rinse, or hosing down after each venture into the salt.
If the drivetrain seems a little stiff to move up and down with the drivetrain lever after storage, a drop of oil is in order. To keep the drivetrain moving freely up and down, add a drop or two of your chain oil to the slit between the friction lock and the bike frame.
The friction lock is the grey - black rubber like bushing that holds the drivetrain unit into the Hydrobike frame. It has 4 silver screws around it. It is sandwiched between the rear chain sprocket, and the very back of the bike frame. Just go to the top of the drivetrain (opposite the propeller end), where it is fastened to the Hydrobike.
Add a drop or two of oil into the gap between the friction lock and frame. Work the drivetrain up and down by hand (not with the lever) to allow the oil to seep in between the friction lock and frame. In a few seconds, you will feel the stiffness leaving. A drop or two of oil is all you need.
This is also a good time to check tightness of the black clamps that hold your drivetrain lever arm to the drivetrain. These clamps should be checked and retightened periodically. Do not put a socket wrench or large wrench on the screws. A slot screw driver, hand strength tight is fine.
After every couple of days of use, check the tightness of your 8 black hand knobs around the side decks. Hand snug (and not too tight) is all that is required. Never use tools on these knobs.
In extreme use situations, or busy rental environments, I would recommend drivetrain oil changing yearly.
It has been my experience that in the average, personal use environment, every couple of seasons is fine. For optimal protection however, I would change it every season. Your drivetrain is a water tight, sealed unit that prevents exposure to water or other contaminants. Changing the drivetrain oil is a simple procedure. Contact me to order the oil complete with the instructions to accomplish this task. This procedure is also covered in your owners manual. This manual covers everything from assembly, operation, maintenance, transport, storage and features of your Hydrobike. Call me at 1-888-403-9012 or
email me
for your
free copy of the owners manual.
It is also a good idea to remove the handlebar stem assembly and pack the wedge with grease in your off season. In salt water environments I recommend this as a monthly task.
Lubricating the seat post every spring and fall with your chain oil is a good idea. Once a month in salt water environments is a good idea too. A drop or two is all you need.
If the button that opens the front storage console is not moving freely, add a drop or two of your chain oil lubricant around this button and work it up and down. Its' not to difficult to remove it completely to perform a little maintenance on it.
It is a good idea to cover the Hydrobike when not in use, especially when it sits in direct sunlight. Sunlight, over time, will fade the beautiful color of your side decks and storage console. I have
custom covers in stock to prevent this
. A tarp will do. A shady tree will work fine.
A spray and wipe with Armor All from time to time protects and beautifies these polyethylene components. Try it, you will be amazed at the results! Be careful though, these parts are slippery when wet after treatment.
For those of you that are wondering what it would be like to own a Hydrobike, please contact me to see what all the fuss is about. I can offer you a great price with enough extra value to give you a great investment in your future enjoyment or income earning potential. My goal is to give everyone an opportunity to experience and benefit from this unique and innovative personal pontoon boat as soon as possible.
Whatever it takes to get you Hydrobiking soon, I am prepared to ensure it happens for you. Visit our site or contact me to learn more about Hydrobikes.
Feel free to call me toll free, 1-888-403-9012, and speak to me personally.
Avoid Theft of your Hydrobike!
~~~~~~~~~~~~~~~~~~~~~~~~~~~~~~~~~~~~~~~~~~
Hydrobikes attract a lot of attention. This is a not a toy. This is a premier watercraft product that looks the part. Common sense will keep you safe from disappointment.
I would keep them away from the water at night if possible, or at least secured. Simply by covering the bike with a tarp may keep it from being so noticeable. It is very easy to move and put into a more secure area if you have one. The optional carrying straps are a must have. You can also chain the Hydrobike to a dock or tree. Be sure to use a chain with a protective coating to prevent scratching of the high quality aluminum frame.
A good tip is to remove the bicycle type drive chain at night. This is easy to do by lifting the drivetrain by hand up towards the seat.
This prevents thieves from driving off with your Hydrobike. Your safest method is 'out of sight, out of mind'. (or hire a couple of nasty pit bulls to stand guard!)
Note: I had a customer contact me who had his Hydrobike blown off a dock in strong winds. Larry and Sandra were fortunate that a kind and honest soul way down yonder side of the lake reported a lost and lonely Hydrobike to the police. These nice folks are happy again.
Don't let this happen to you..Tie it up just to be safe!
Hydrobike best time to buy is October to March.
~~~~~~~~~~~~~~~~~~~~~~~~~~~~~~~~~~~~~~~~~~
We sell for less and give you more! Call us and see.
October until March 31st is your greatest chance to save and purchase the most Hydrobike value.
Seniors and volume purchasers can save even more. We have lots more value added thats' unpublished and changes weekly. We have no charge extended warranty, free options, 25% parts discounts, and more from time to time. Call us for a customized package built just for you. You can reach me toll free at 1-888-403-9012. For resorts and rental outlets, our
rental packages
are designed to get you up and running quickly.
Don't delay, peak season is coming soon and delivery time is an issue. Call us today to get your order processed quickly.
GO GREEN WITH HYDROBIKES!
Never has the need for conservation and attention to preserving our environment been more important ... Hydrobikes are the perfect fit! Human powered and silent, hydrobikes are friendly to our environment above, and below the water.
I have a lot of value in store for you this coming season. I have specials and promotions that change weekly. Please call 1-888-403-9012 or
email me
from time to time to see what I have in store for you.
Why should you buy your Hydrobikes from Hydrobikes Ontario?
~~~~~~~~~~~~~~~~~~~~~~~~~~~~~~~~~~~~~~~~~~
Hear what my customers are saying!
Listen
~~~~~~~~~~~~~~~~~~~~~~~~~~~~~~~~~~~~~~~~~~
I love my own Hydrobike. I spend 8 hour days exploring, fishing, or just relaxing on my Explorer. You really need to hear it from my customers though to feel the impact Hydrobikes have made in their lives. Please click on the link above and hear it from their perspective. These people were once like many of you. Uncertain, fearful, or hesitant for some other reason. Please listen to what they say now.
Send this newsletter to a friend...they may thank you!
~~~~~~~~~~~~~~~~~~~~~~~~~~~~~~~~~~~~~~~~~~
The time may not be right for you to purchase a Hydrobike. Someone you know may be very interested to learn about Hydrobikes and enjoy all they have to offer. Please feel free to forward this newletter to anyone you feel may be interested.
If they mention your name, I will make sure they get all the benefits and current savings that are available at the time.
Your name will be kept on file...when the time is right for you, I will make sure you get rewarded for the referral.
I welcome your feedback and content to add to this newsletter!
~~~~~~~~~~~~~~~~~~~~~~~~~~~~~~~~~~~~~~~~~~
I would love to hear from you. Anything you would like me to write about, any suggestions to make this newsletter better would be most welcome. Your own interesting ideas and content would be great too. I would like to add interesting or entertaining info or pics from my customers and readers.
Please feel free to submit something different you would like to share. I hope to make this newletter more interesting. It all helps to assist me in serving you better. My business is built on you, and with your help, I hope to continue to grow and spread the Hydrobike experience.
Please call or write with any suggestions or submissions.
Visit my
Facebook Page
to see many pictures, information about hydrobikes, and comments from others. Be sure to 'Like' the page while you are there.
~~~~~~~~~~~~~~~~~~~~~~~~~~~~~~~~~~~~~~~~~~

Contact Information
~~~~~~~~~~~~~~~~~~~~~~~~~~~~~~~~~~~~~~~~~~
email: john@hydrobikes.com
voice: 1-888-403-9012
local: 905-664-9010
web: http://www.hydrobikesontario.com
~~~~~~~~~~~~~~~~~~~~~~~~~~~~~~~~~~~~~~~~~~
The content of this web site is owned by Hydrobikes Ontario and is made available to you by Hydrobikes Ontario by permission of the owner. Hydrobikes Ontario permits you to have access to the contents of this web site but you acknowledge that your use of that content is governed by applicable copyright, trade mark or other intellectual property law and agree that the content of this site may not be copied for commercial use or distribution, modified or re-posted to other sites.