Copyright Hydrobikes Ontario 2016. All rights reserved.

.........My Hydrobike Customers Are My Most Valued Asset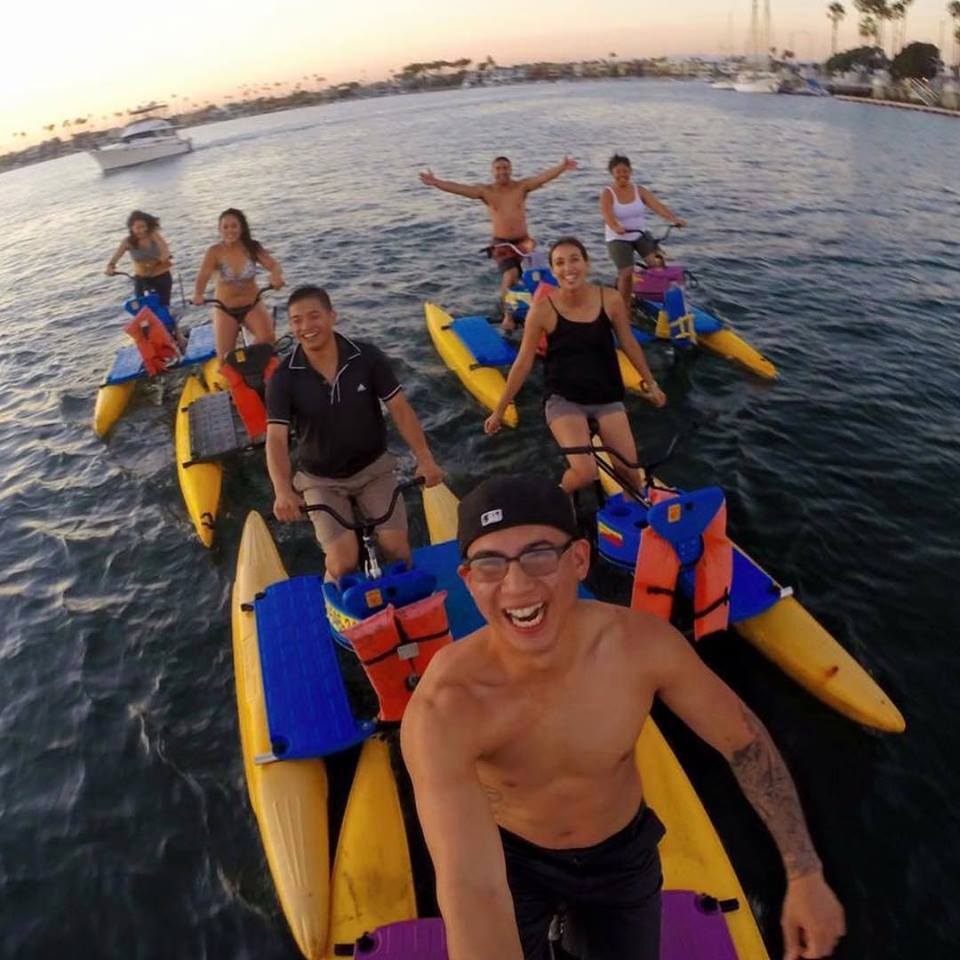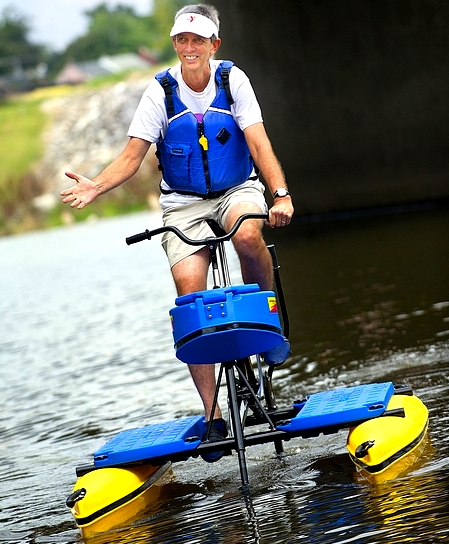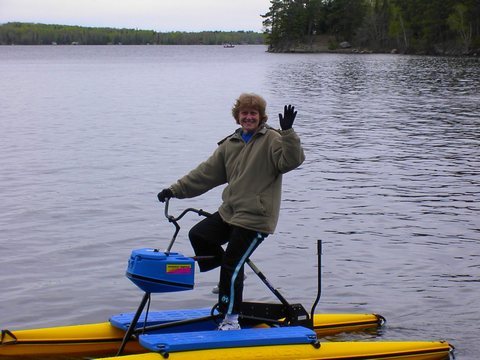 Dear John:
I wanted to take a moment to tell you how much we are enjoying our Hydrobike.
After recently retiring, I wanted to increase my exercise and fun level too - and the Hydrobike is perfect for both. It's great fun, easy to peddle, scoots along fast, and I get the side benefit of toning up at the same time. I feel like a kid again, riding my bike around the neighborhood, just now it's the waterfront neighborhood.
The design of the bike is exceptional - lighweight, handy carrying straps for easy entry into the creek from our dock, sturdy and stable platform, and easy to set the handlebars and seat ergonomically correct for different height riders. My bike was in demand for our recent Father's Day picnic, and we had riders from 8 to 72 years old and they all loved it. My favorite time to ride is early in the morning or after the sun goes down. I have to sneek out of the house if I don't want Buster, my dog, to go with me. As soon as he sees me heading for the dock and my bike he starts whining to go with me. He's never cared for going out on our 25' Parker fishing boat, but he definitely loves being close to the water on the Hydrobike.
My granddaughter says I'm a trendsetter because we now have three Hydrobikes on our creek.
Whatever - I'm enjoying riding with my gal pals whenever I can.
I commend you and your company on your service as well. I was thrilled to get my bike as quickly as I did, and your quick and personal responsiveness to calls and EMAIL is so refreshing.
Enclosed are a couple of pictures of me and Buster on my bike. Also a fishing picture from a flounder trip in our boat in June. I'm planning to fish the marshes for flounder on my bike in the spring next year when they come inshore.
Please do keep in touch and my husband and I hope you'll visit whenever you are down south!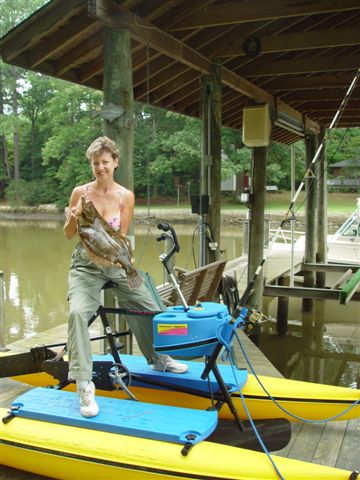 Betty Madison VA
Dear John:
Thank you for your very prompt reply to my questions.
The past two summers the hydrobike has certainly made my cottage experience so much better. I have always enjoyed the lake and canoeing but after I retired I found that kneeling or sitting in my canoe even for a short time was very uncomfortable. Also the wind and waves limited the times I could be out on the water. However the hydrobike has come to the rescue and changed all that as I can now be out on the lake anytime for hours without cramping up. I can stop and stand up and stretch periodically and wind and waves and motor boat wakes present no problems as the bike is totally stable and easily steered even in a cross wind and a strong headwind doesn't affect the forward speed very much. I love puttering along the shoreline and the bike provides an excellent vantage point to look down into the water to see the rocks and fish below. I have been able to get into most places with my bike that my canoe can go. I carry a collapsible paddle and a tall ski pole with me all the time and when the water gets too shallow or weedy for the drive train I lift it up and paddle or pole my way in or out of where I want to go. I am certainly looking forward to getting back on my bike again this coming summer.
You are welcome to use my name and this letter or any part of it as a testimonial to your excellent service, cooperation, and of course the great product you are selling.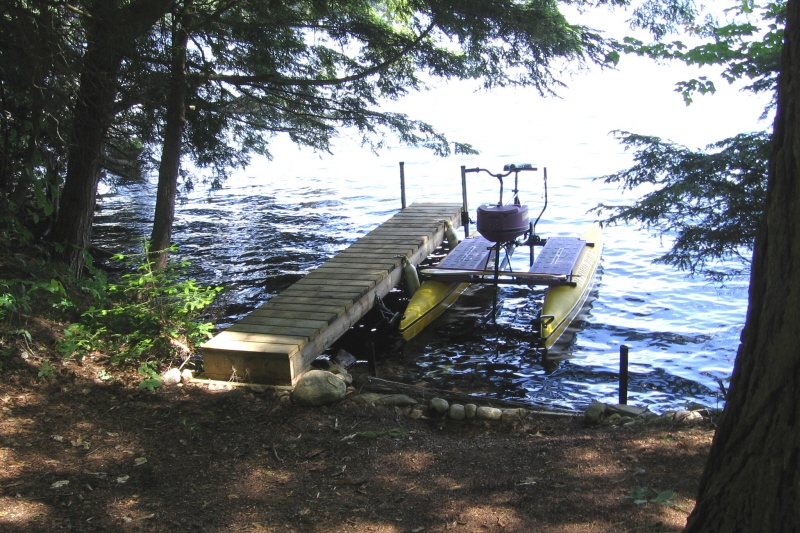 Bruce Webster ON Canada
Hi John
Last September I purchased a Hydrobike. It's something I regret. I should have purchased it in April and not missed out on a whole summer of fun. No one can pass you by without stopping to find out about the bike. It's harder to resist than a new puppy. Talk about a great way to meet friends. It is also most enjoyable passing the gas pumps with a smile on your face as the prices go up. One day I came within 15 feet of a family of loons. Try that on a Jet-ski. I'm counting the days until spring. I put two simple strips of carpet on our dock, and the bike slides up like butter on hot corn. So easy! Right now, the only thing I am sorry about is that we only have one. Some day I really hope to remedy that.
Cathy Shoniker ON Canada
John, my dealings with you and your product has been a pleasure. I will always remember the moment those kids saw the bikes hanging from their dock for the first time. I went up to the lake house before them to do the install, so they would be surprised, and when I told them I had gotten the bikes for them, the look on their faces and the squeals of joy is something that I will never forget. Thanks for making it possible. You are a great business man dealing in a fantastic product!
Dave Trusty, Texas
John: "My experience in dealing with you has indeed been the most pleasant I ever recall. I will do what I can to stimulate some business for you, so don't lose track of us. We'll keep you posted".
Kay Dieter, Susanville, California
John: "I have never given a testimonial to any person or firm in my life. I now feel compelled to do so. My experience dealing with you and your firm was the best I have encountered to date. I was hesitant to deal across international borders. It proved in the long run to be no more trouble than a trip to the convenience store. If you have anyone who needs a little encouragement send them to me."
Tom McMillan South Carolina
John: "Thanks so much for your quick responses, I've never dealt with anyone who gave such great customer service."
B. Tode, Lake Vermillion Minnesota
John: "THANK YOU once again for your prompt service, and follow thru every step of the way on this purchase. I really wish every merchant and service company operated as your business does".
David Delaney Canton, Ohio
I can't say enough wonderful things about John Rakush at Hydrobikes Ontario. He was attentive and welcomed all questions and concerns. He handled a problem with shipping and answered questions about assembling with clarity. Putting it together was actually fun. His prices can't be beat and his service and regard are a welcome.
Maureen O'Brien Maryland
John: "Thanks so much for all you did to make this a great transaction. There is no question in my mind why you are THE "Hydro-Bike" dealer!"
Bob Krueger Wisconsin
John, First I have to say I am very impressed with your service. I'm just a guy out here that only wanted a replacement pontoon for a hydrobike I didn't even buy from you. My treatment was outstanding. I received the pontoon already yesterday. I couldn't believe it got here that fast. I really love these things and since my brother and his wife have used mine already, they are thinking of getting one themselves. I will recommend you to them and anybody else. I will be in touch for parts and accessories (and would actually like a second at some point). THANKS MUCH!"
Steve Krueger WI
John,
What a fantastic machine!
I have worked as an engineer at the Kennedy Space Center in Florida for the past 26 years. The Space Center is located on the northern most tip of Merritt Island and my house is about 20 miles south on the same Island. The Island is about 28 miles long and is surrounded by salt water estuaries that provide the perfect environment for all varieties of water sports. I had been looking for a pedal powered water bike for some time and researched the various models that were commercially available and finally decided on the Hydrobike. It is even better than I had imagined!
When it arrived, I had to go out of town that evening so I didn't want to start assembling it and then have to leave before finishing it, but I couldn't stand it. So we cut open the boxes and started putting it together. What an incredible design! We had it together in less than an hour. Whoever designed this machine thought of every little detail. Everything went together perfectly. The majority of the parts are corrosion resistant, (aluminum, brass and stainless) which was a big concern for using it in our salt water environment and the hulls are virtually indestructible. It's built to last. After the initial assembly, it is designed so that it can be disassembled in minutes for easy transportation.
It went together so quickly that I had time to take it for a test spin before having to leave. I weigh about 235 lbs so I was worried about stability. No problem at all. I can stand on one pontoon and the bike is still completely stable. We launched it using the 4 handles located at the ends of the pontoons, adjusted the seat to the correct height, lowered the drive unit and took off. It is really fast and easy to handle, just like riding a bike on the water. I ended up riding it over a mile before having to leave. It was almost effortless.
What was supposed to be a week of out of town work, turned into a month and a half or more, so I didn't get to play with it again until recently. A cold front had just come through and the wind was blowing about 10 to 15 mph but I took it out any way. I said this before but I'll repeat myself. What an incredible machine! I took it across the river about a mile and then up wind about 3 miles, then back across the river and back down to my house. It handled the rough water with no problem, went into the wind easily and was a pleasure all round to use. One other thing that I had been worried about, was running aground. It was no problem at all; the drive unit just kicks up when you hit bottom. You can operate it in really shallow water by moving the conveniently located handle attached to the drive unit and trimming the drive unit up until the propeller is barely in the water. The designer thought of everything!
Jim Myers FL