Hydrobikes: Unsinkable, Stable, Safe. Water Bike Fun For All from 8-80
Hydrobikes Water Bikes: USA Made by Skilled Technicians Since 1990.  NOT a China Made Water Bike Product.  Hydrobike Pontoons are NOT Inflatables.
What Our Customers Say;
John: "I love my Hydrobike and consider it in the category of one of the greatest purchases I have ever made in my life." Robert Thayer, Illinois
Dear John, I wanted to take a moment to tell you how much we are enjoying our Hydrobike. I commend you and your company on your service as well. I was thrilled to get my bike as quickly as I did, and your quick and personal responsiveness to calls and EMAIL is so refreshing. After … [Read More]
Hydrobike Pontoons are Seamless, Rotationally Molded, Leakproof, Unsinkable, and Built To Last.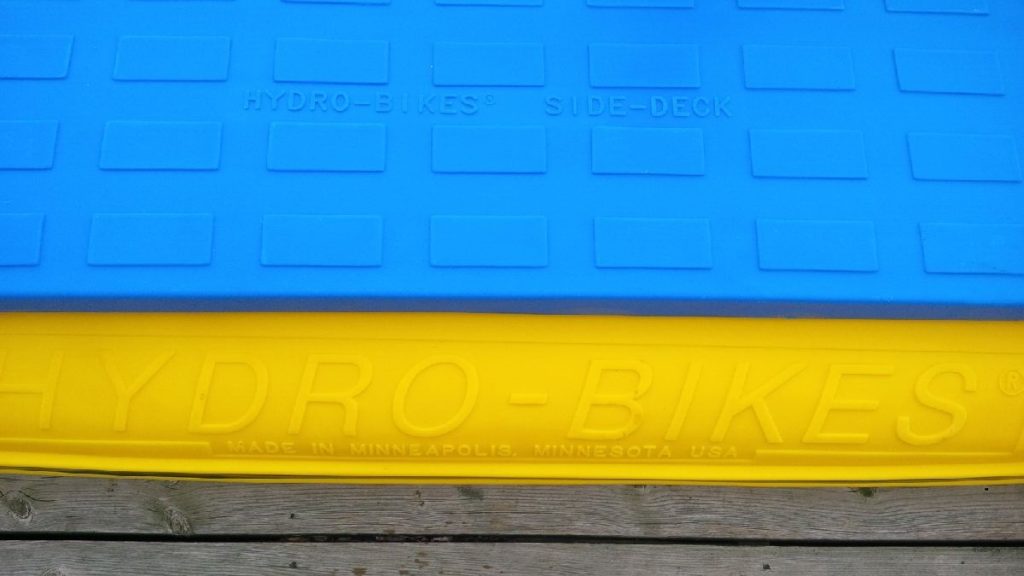 Hydrobike Water Bike Frames And Components Are Rock Solid, Powder Coated, High Gloss, Extra Sturdy, And Made Of Aluminum & Steel To Round Out The Premier Quality We've Been Known for Since Our First Hydrobikes Were Built in Minnesota in 1990.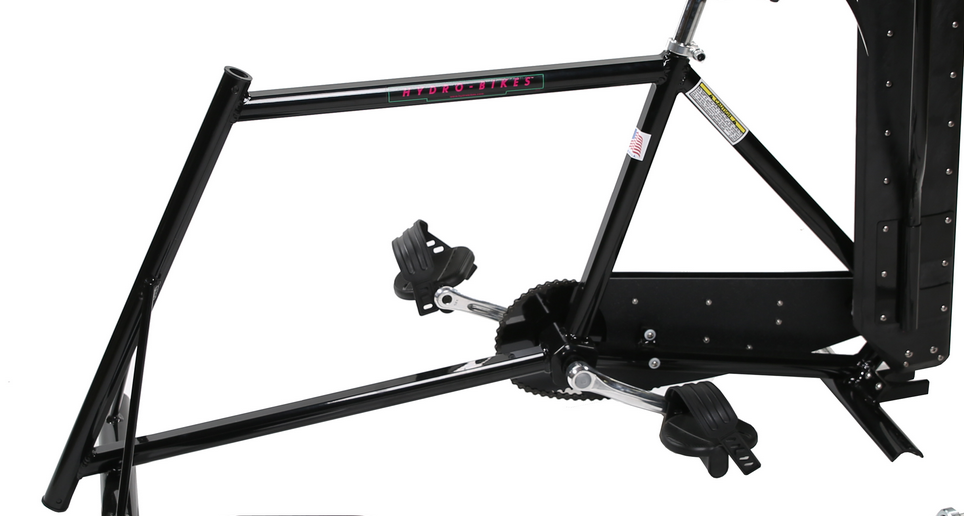 Hydrobike Drive Units Are Known To Be The Strongest In The Industry.  Built For Heavy Commercial Use, They Have Stood The Test of Time.  Many 25 Year Old Hydrobikes Are Still Gracing Waterways Worldwide.  Efficient and Fast, Hydrobike Drives Are Built With All Steel Internals, Factory Oil Filled, and Sealed To Give You Many Years Of Trouble Free Operation.  Our Drives Are Not Fixed In The Down Position.  Instead, They Pivot Upwards When Striking Bottom Or Under Water Obstructions To Prevent Damage.  Everything Has Been Covered To Ensure You Receive Maximum Value For Your Investment.
A 400 lb Capacity, Unparalleled Stability, and Sturdy Platforms Enable You to Bring Along Family and Friends!
Hydrobikes give you a true, upright, biking on water experience.   Those who cannot ride a bicycle can enjoy Hydrobikes!  No skill or ability is required.  Faster, more stable, and more comfortable than canoes, kayaks, or stand up paddleboards, Hydrobikes give you a high and dry vantage point well above the water.  You never need to get wet on a Hydrobike.
Hydrobike safety and reliability have made them the clear choice of US State and Municipal Parks, Canadian Provincial Parks, Conservation Lands, Resorts, Camps, Kid's Camps, Rental outlets, and thousands of consumers in 74 countries.  Seniors love our Hydrobikes!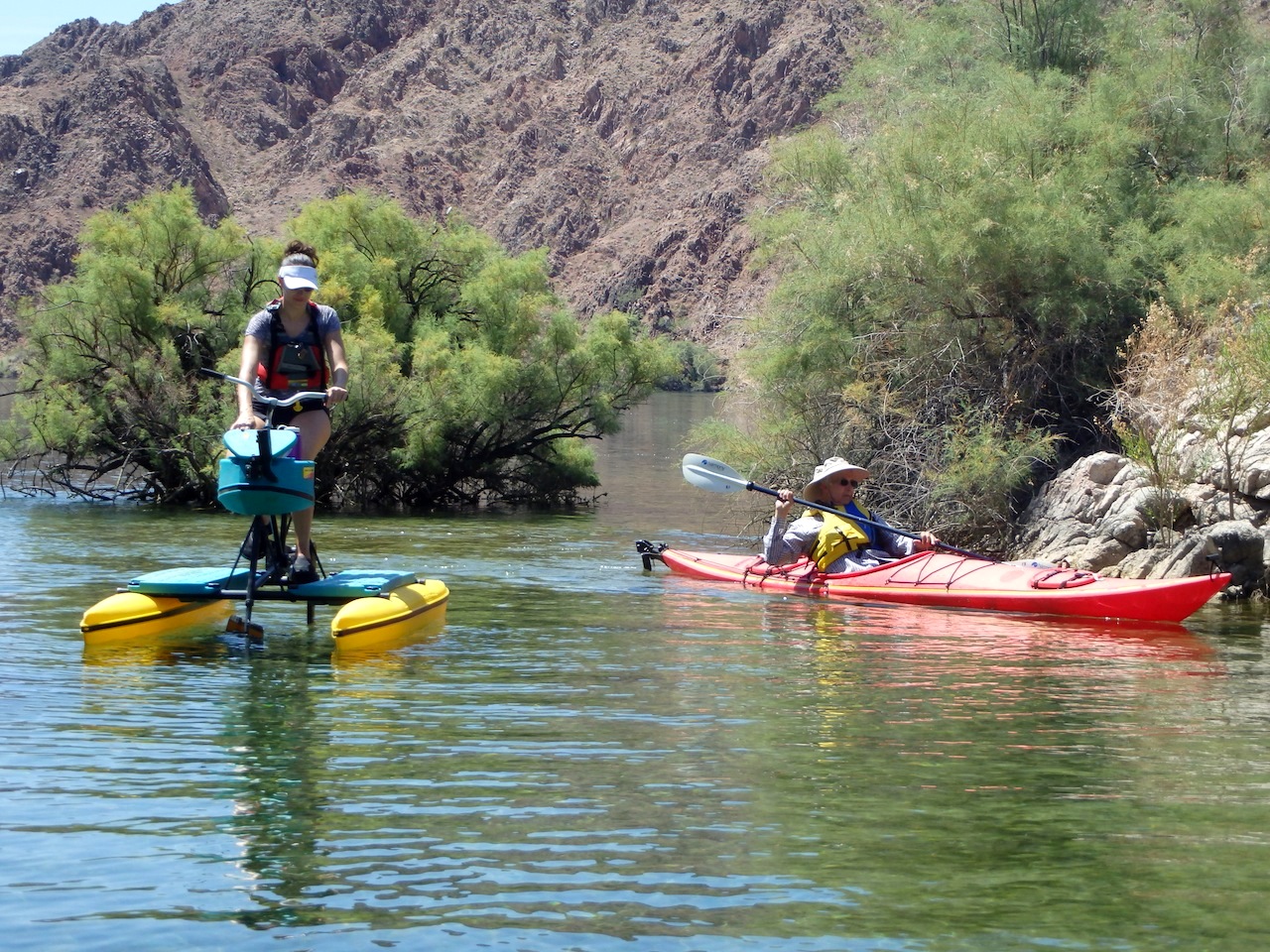 You can stand up and stretch, jump in for a swim, stand on the side deck and fish all day long, or spend the day island hopping.  Silent stealth, and ability to navigate in 12″ of water make Hydrobike Explorer a serious small fishing boat.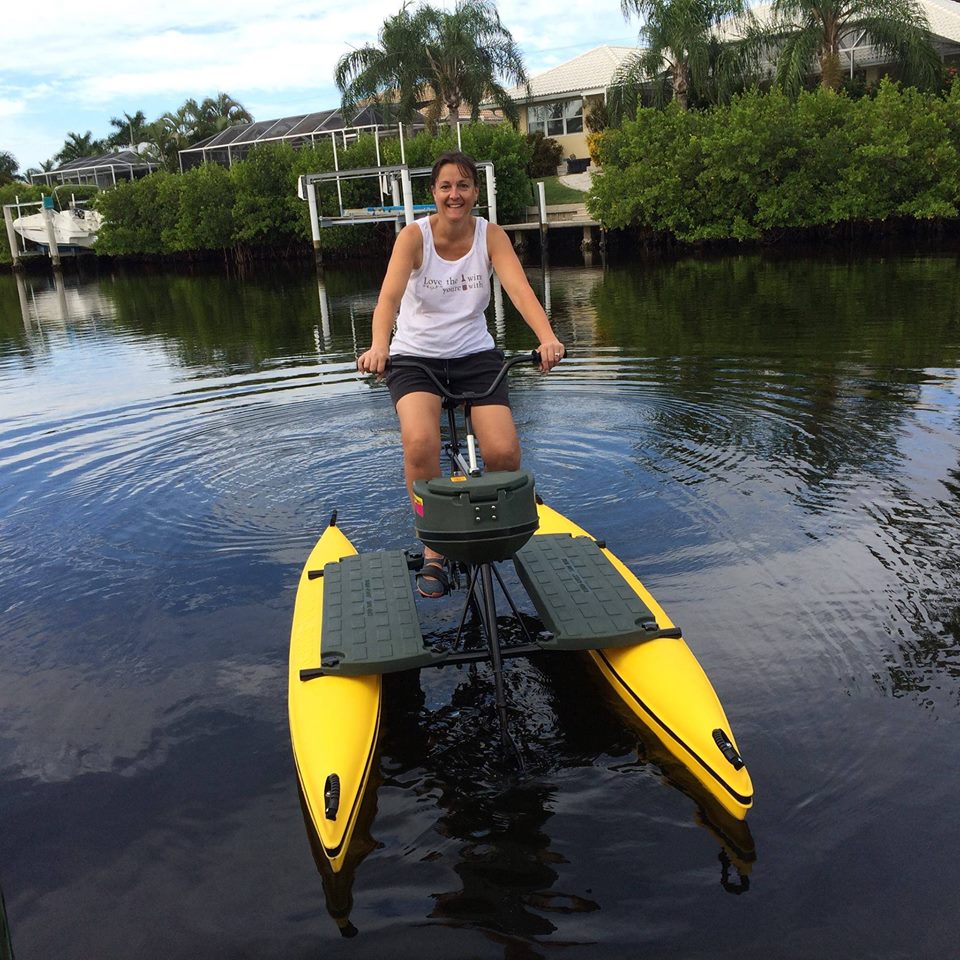 Assessments
"What a fantastic machine! I have worked as an engineer at the Kennedy Space Center for the past 26 years. I had been looking for a pedal powered water bike for some time and researched the various models that were commercially available and finally decided on the Hydrobike. It is even better than I had imagined! It went together so quickly that I had time to take it for a test spin before having to leave. I weigh 235 lbs so I was worried about stability. No problem. It's really fast and easy to handle, just like riding a bike on the water. It was almost effortless…the designer thought of everything!" Jim Myers FL Space Age Water Bike Technology
"I personally believe that the Hydro-Bike Explorer is the most revolutionary concept in cycling since the mountain bike, and would highly recommend it as a very safe and fun watercraft; a wonderful alternative to cycling on busy streets." Randy Schellenberg, CYCLE TIME Products Vernon BC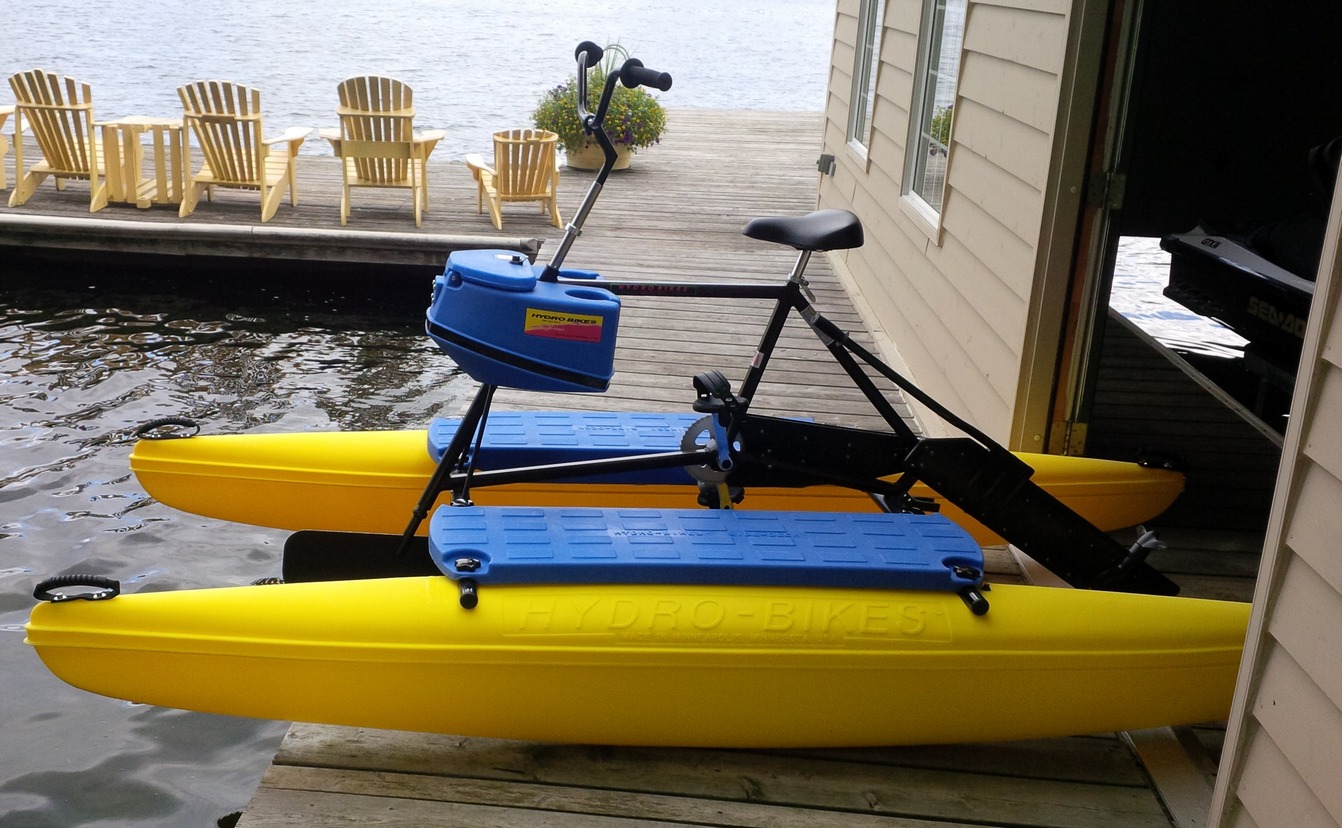 Hydrobike Advantages
Peace and quiet: The Hydrobike is engineered for silent operation
Strong, fast, and light: Developed by a professional canoe designer for optimum buoyancy, speed, & maneuverability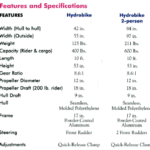 Steady and sturdy: Stable enough to dive from, and handles rough water conditions, including five foot ocean swells
Propeller-driven for the fastest performance: The computer-designed propulsion system is 90% efficient
The long life lower drivetrain is sealed water-tight, providing protection even in salt water
Built-in storage compartment: Stows extra clothes, beverages, and cargo, and features two cup holders
E-Z carrying straps: Optional straps make it easier to tow the Hydrobike in and out of the water
Easy To Assemble: One-person assembly and disassembly in minutes, without any tools after initial setup
Shallow water navigation: Operates in less than one foot of water. Automatically pivots up and over obstacles like rocks or sand. Beaches easily without prop or rudder damage.