Hydrobike Water Bike Dealers Profit From Our Made in USA Premier Water Bike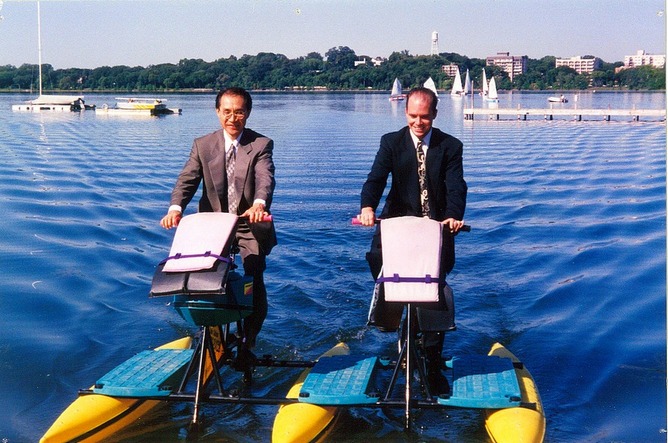 The Most Revolutionary Concept in Cycling Since the Mountain Bike!
"I personally believe that the Hydro-Bike Explorer is the most revolutionary concept in cycling since the mountain bike, & would highly recommend it as a very safe & fun watercraft; a wonderful alternative to cycling on busy streets." Randy Schellenberg, CYCLE TIME Products Advanced Technology Water Bike
Protected Rights, Exclusive Territory, Marketing Support, Leads
Hydrobikes have become synonymous with premier family fun and fitness on the water. Despite our sales into 74 countries, Hydrobike awareness has barely touched a small percentage of all those who can benefit. This is the dealer's opportunity to profit by being the first to bring Hydrobikes into their territory. You'll benefit further from leads passed to you, and most importantly a nationwide and global customer base of ambassadors singing the praises of Hydrobikes to all those in their circles!
*To learn how to become a Hydrobike dealer send for Dealer Info Kit
Golden Opportunity Offering Eco-Friendly Fun & Fitness Water Bikes
I'm looking for several passionate entrepreneurs interested in promoting the 'Real Biking on Water' benefits of an established, high quality brand. There is a worldwide Hydrobike community out there, and we need to build an extensive dealer network to support them.
I need several Dealers in all US States and in Canadian provinces. International opportunities with exclusive and protected rights exist for those interesting in representing us outside of North America.
Put Your Name Next To The Water Bike Industry Leader
As a Hydrobike dealer, you'll be putting your business name next to the world's leading innovator in pedal powered watercraft, and enjoying the benefits of your alignment with a premier, established, and proven brand.
This is your unique opportunity to be in control of Hydrobike sales in your area. You'll be providing the world's # 1 selling, longest lasting water bike. As a member of our Hydrobike Team, you'll enjoy a no competition environment within your territory and benefit from the sharing of our 25 years experience in the field. We provide the sales, marketing, and technical support you need. Hydrobikes stand out with their unique appeal.
The setup of a rental outlet in your area will serve to provide a high net profit cash flow and an opportunity for those all around to test drive your Hydrobikes and perhaps make a buying decision. With our experience, brand recognition, and the Hydrobikes instant appeal you'll hit the ground running in your new Hydrobike dealership. Our company is about team work, and building solid relationships based simply on offering great value and following through.
To learn more about joining Team Hydrobike, Call John at 1-888-403-9012, or email me for more information.