Hydrobikes: Unsinkable, Stable, Safe, Easy To Operate, Built To Last. Proven For 3 Decades In 74 Countries.  This Is Water Bike Family Fun For Everyone from 8-80!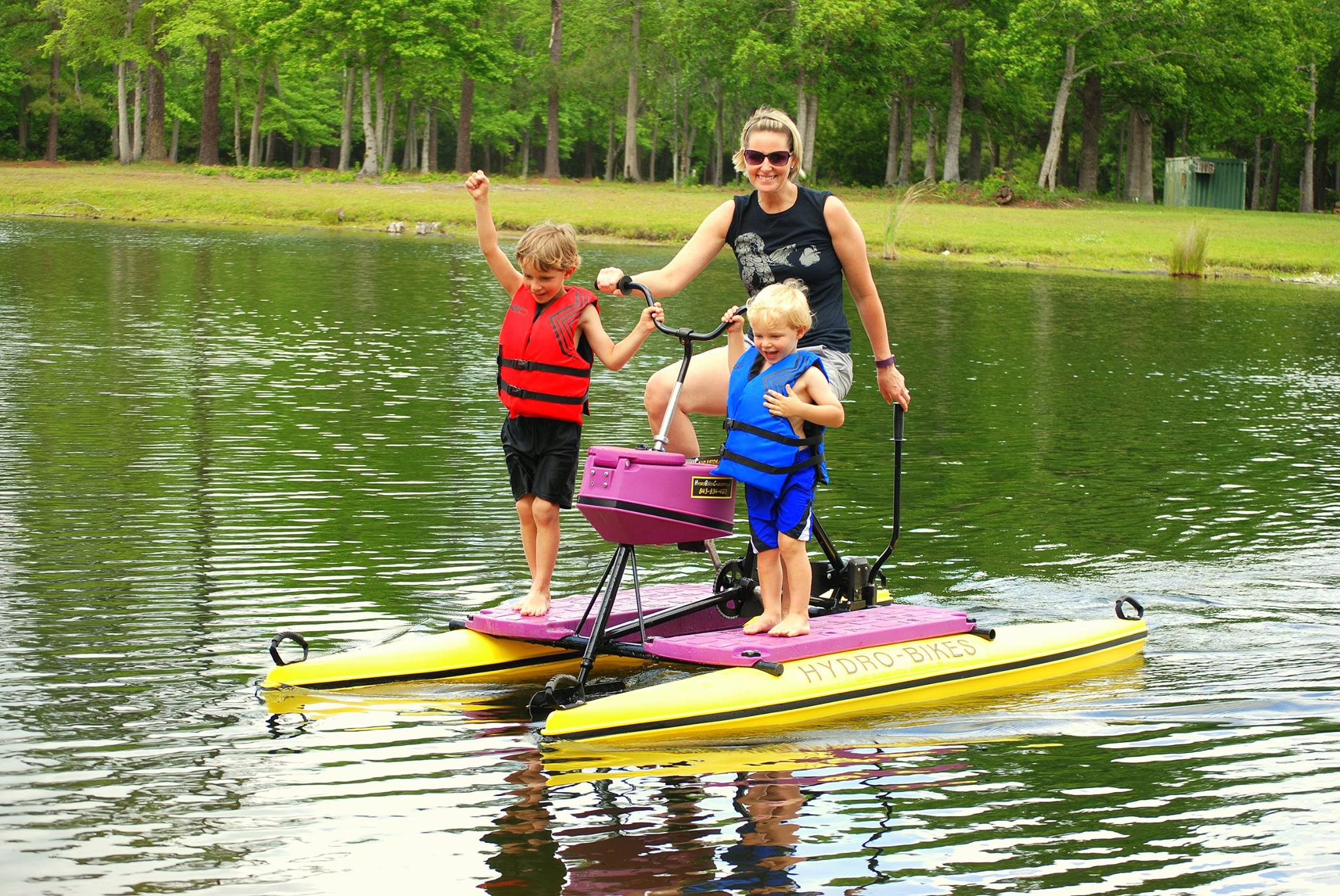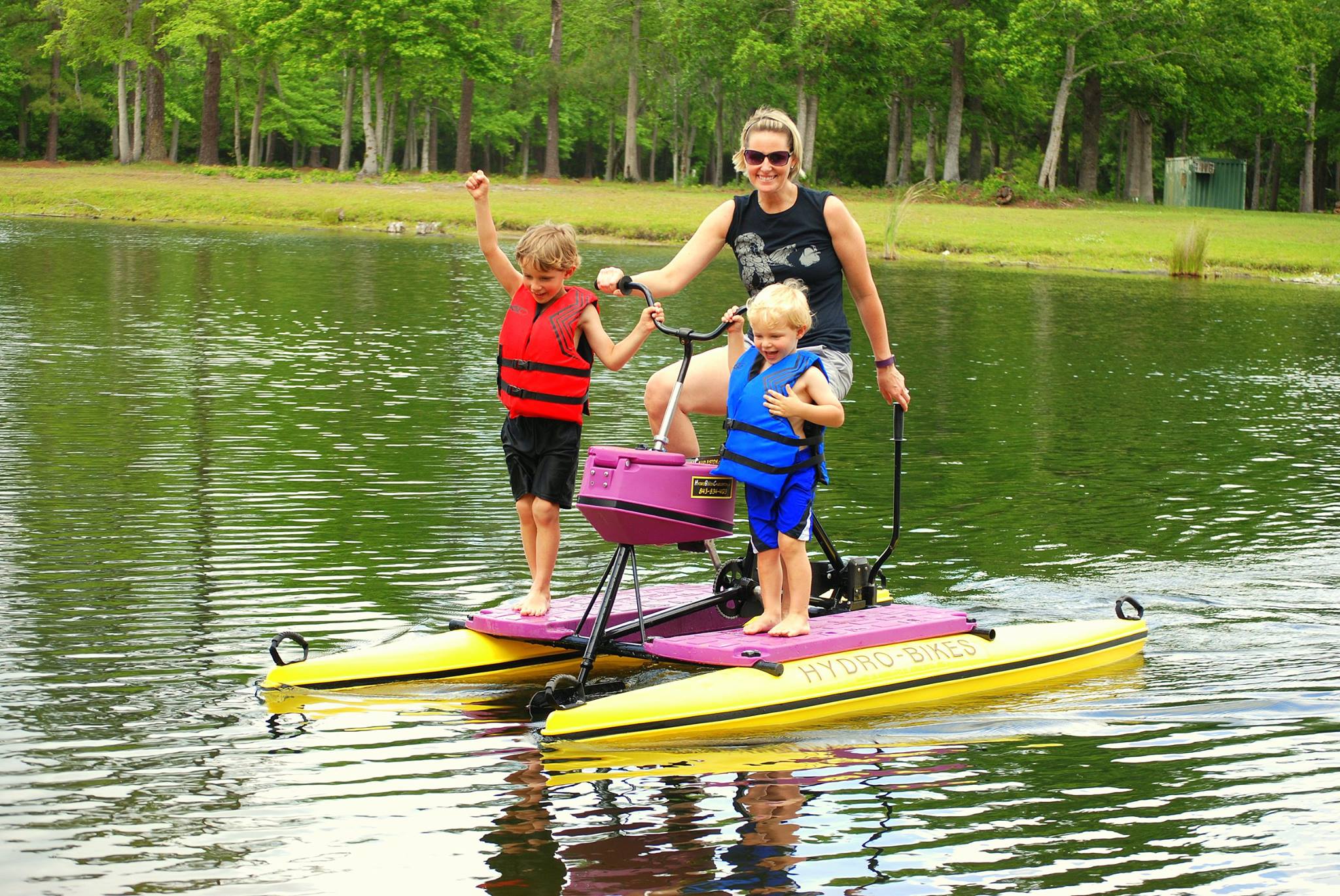 Hydrobikes Water Bikes: USA Made by Skilled Technicians And Built To Last!   Many original Hydrobikes are still gracing water ways.
Customer Comment;  My name is Chuck Thomas and I live on Lake Geneva in Wisconsin. I bought a bike from you about 30 years ago and it is still going strong. I have never needed to replace parts of any sort. Very durable!
Our water bikes are the world's most advanced.  We have been the choice of tens of thousands of consumers throughout the US, Canada, Mexico, Europe, South America, Australia, the Tropics, and 74 countries.  We are NOT a China or 'Offshore' Made Water Bike Product.  Hydrobike Pontoons are NOT Inflatables.
*Beware of other water bikes built 'offshore.'   Ask them where the bike or it's components are built, or ask us!  We know the serious water bike world and the competition better than anyone.  We started it all!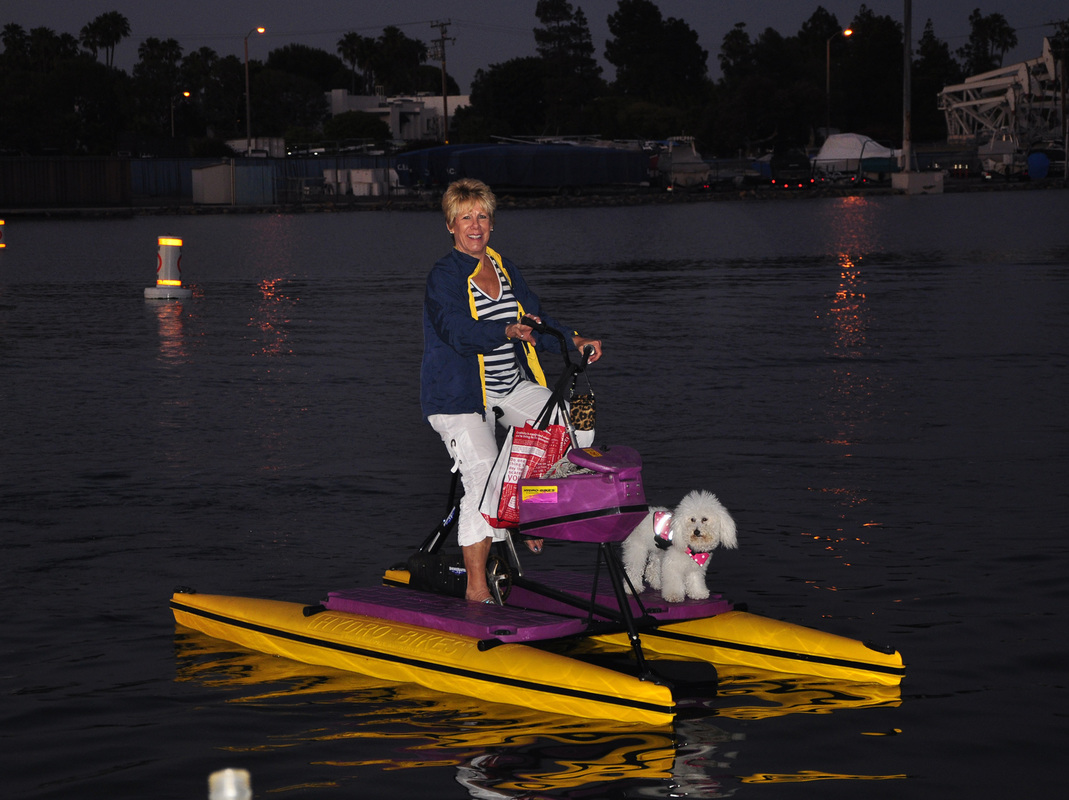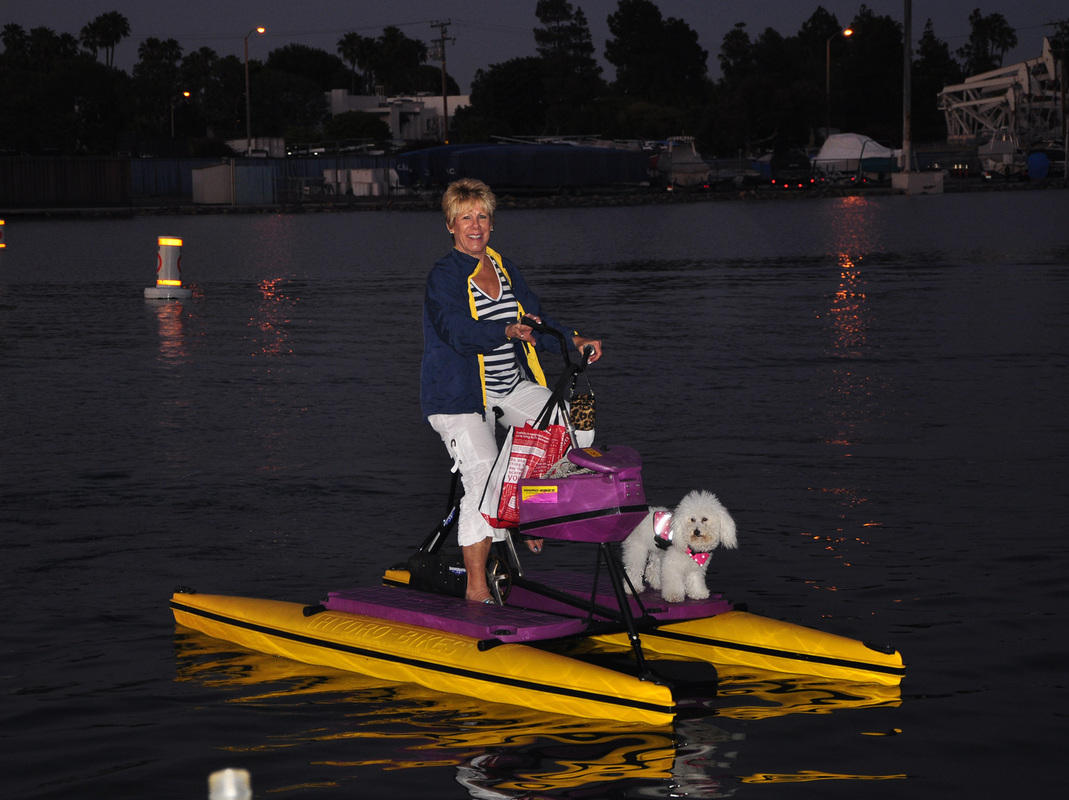 Hydrobikes have always been built commercially tough.  Our water bikes are famous for long life.  Our warranty can't be touched by anyone in the water bike industry.  
Hydrobike Water Bikes are Space Age Technology.  Our propeller is CAD/CAM generated not moulded without regard for efficiency or performance.
Our technology is based on MIT "Propeller Theory" to achieve 90% + efficiency. This same theory was essential to the Gossamer Albatross the human powered aircraft that flew the English Channel in 1979, and allowed two men to pedal "UP THE MISSISSIPPI RIVER" from the Gulf of Mexico to above St Cloud, MN. While setting out July 4, 1994 from the Gulf of Mexico for a journey lasting 68 days, covering 1180 miles and averaging 18 miles per day pedalling up river. This was made possible with the aide of our advanced propeller technology and a sleek catamaran float design unique to Hydrobike Explorer Water Bikes.
Our frames are strong, lightweight, and sturdy powder coated aluminum.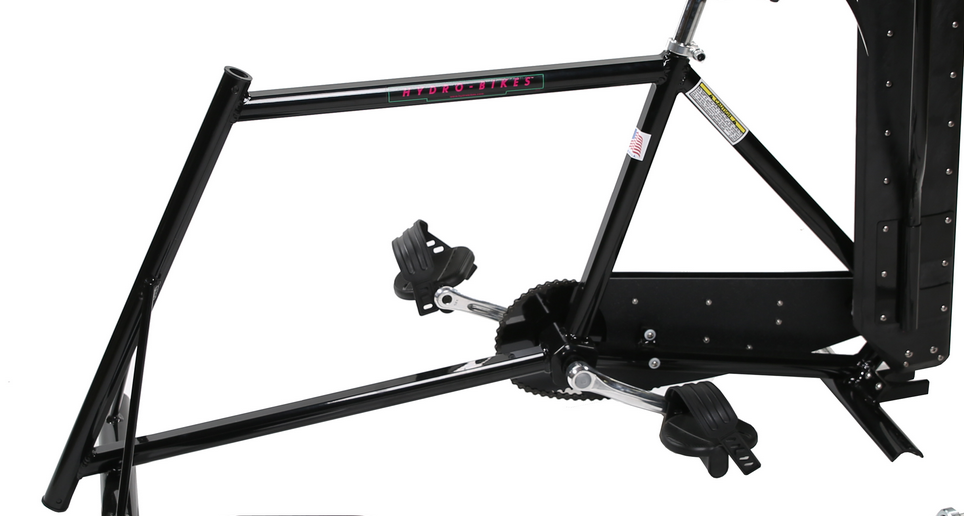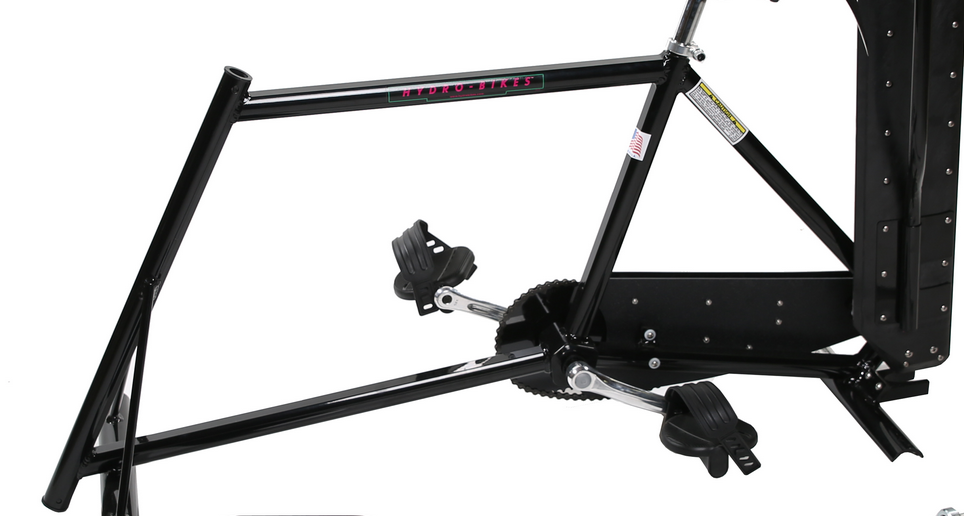 We don't believe in building a premier water bike on inflatable pontoons.  The safety of our customers and their families, along with the longevity and value of our water bikes has been a priority since day one.  Our high density poly rotationally moulded seamless pontoons are unsinkable and virtually indestructible.  We built the mould.  There is no other pontoon like it on the planet!


Warranty: Nothing in this industry compares.  In fact, they wouldn't dare!  This is USA built quality at it's finest.
Pontoons, 5 years
Frames, 5 years
Drivetrain, 2 years
These are numbers we stand by.  Keep in mind that many 25 year old Hydrobikes are still gracing waterways and providing enjoyment for their original owners and family.  In fact, Hydrobikes often get passed on for the next generation to enjoy!  You won't have trouble finding parts if you need them either.  
Hydrobikes are the Rolls Royce of Water Bikes
With simple maintenance your Hydrobike will provide many, many years of trouble free enjoyment.  Quality is evident in every feature.   As a rental unit, Hydrobike reliability means year after year of consistent revenue generation.
Eco-Friendly: Pedal Propelled, A Fun Way To Stay Fit, Fish, And Enjoy Aquatic Life
Hydrobikes have no motor, create no pollution, leave no carbon footprint, and are whisper quiet.  In addition, they are easy to ride with no skill required.  They are faster than kayaks and better than fishing kayaks for catching fish.  You won't disturb wild, or aquatic life.  Our premier quality, water bikes are for family fun, fitness, and your environment.
Resorts, Rental Operators, Entrepreneurs:  Proven Profits 
Enjoy a unique, high profit addition to your current rental fleet, or start a unique, proven high profit business.  Hydrobike water bikes attract customers and keep them coming back.  Our water bikes appeal to riders of all ages.  They are the number one choice over kayaks, canoes, and SUP's.
Shipping Factory Direct To Your Door
We ship our water bikes direct from our Iowa factory to your door throughout the US, Canada and Internationally.  We can refer you to a Hydrobike dealer near you.   Join our Hydrobike family today!
What Our Customers Say;
John: "I love my Hydrobike and consider it in the category of one of the greatest purchases I have ever made in my life." Robert Thayer, Illinois
Dear John, I wanted to take a moment to tell you how much we are enjoying our Hydrobike. I commend you and your company on your service as well. I was thrilled to get my bike as quickly as I did, and your quick and personal responsiveness to calls and EMAIL is so refreshing. After … [Read More]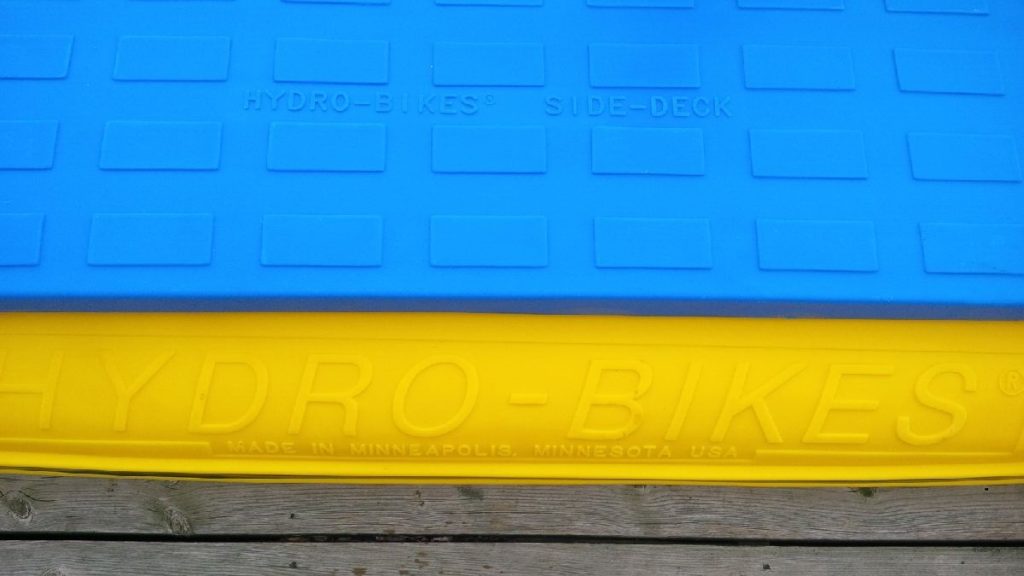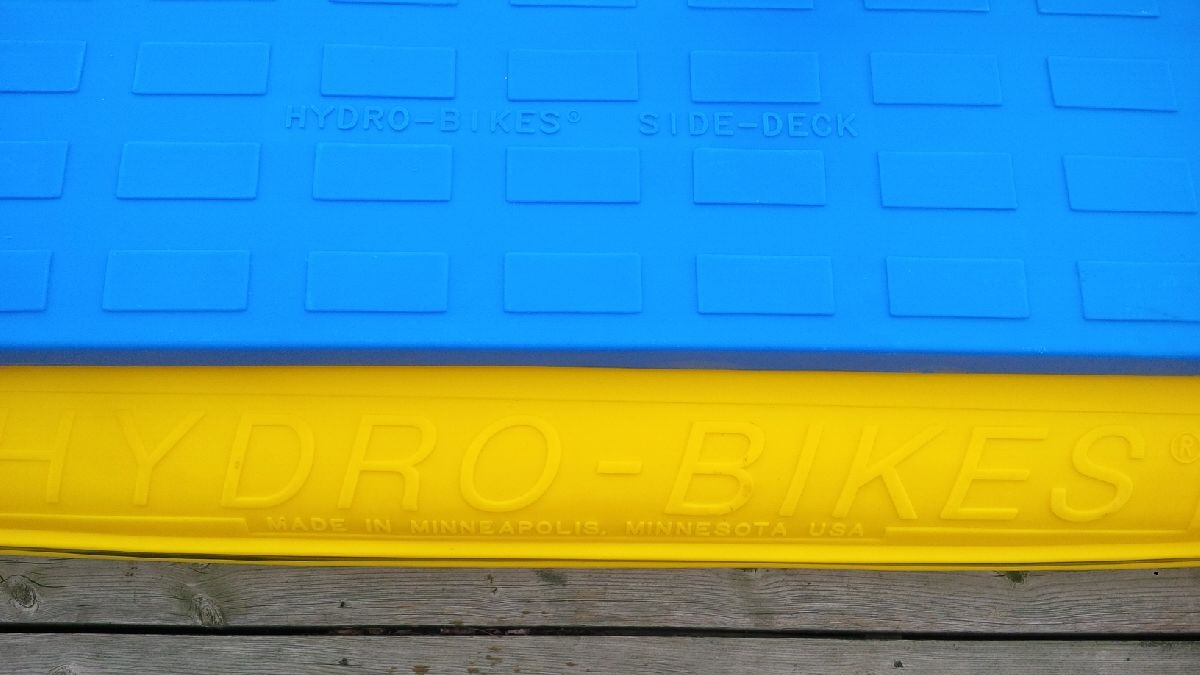 A 400 lb Capacity So You Can Bring A Friend Along!
Unparalleled Stability, and Sturdy Platforms Enable You to Bring Along Family and Friends!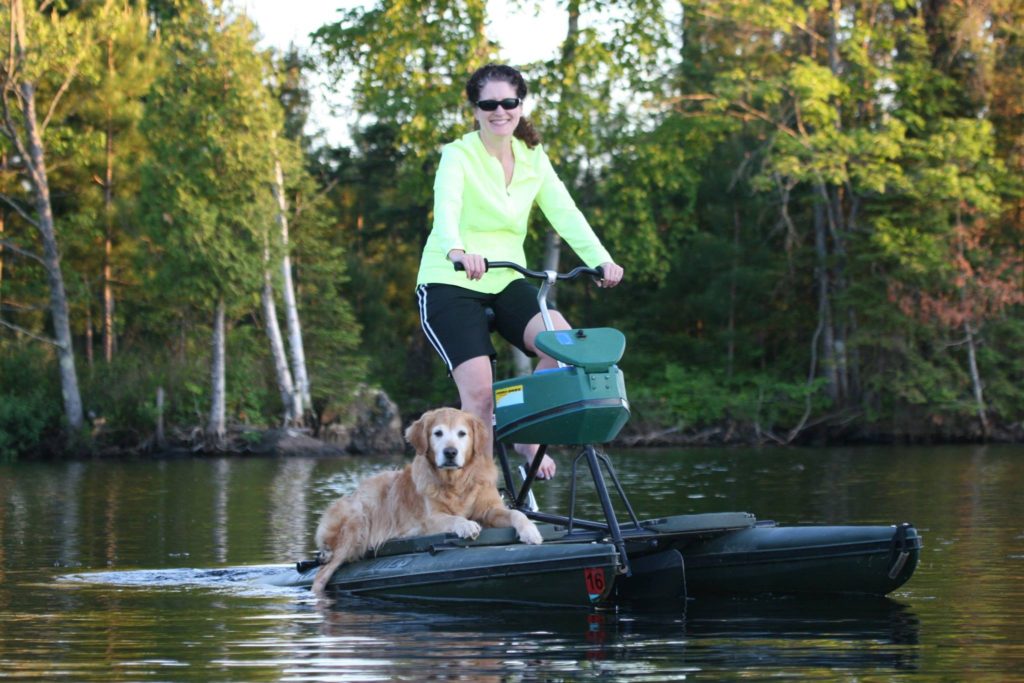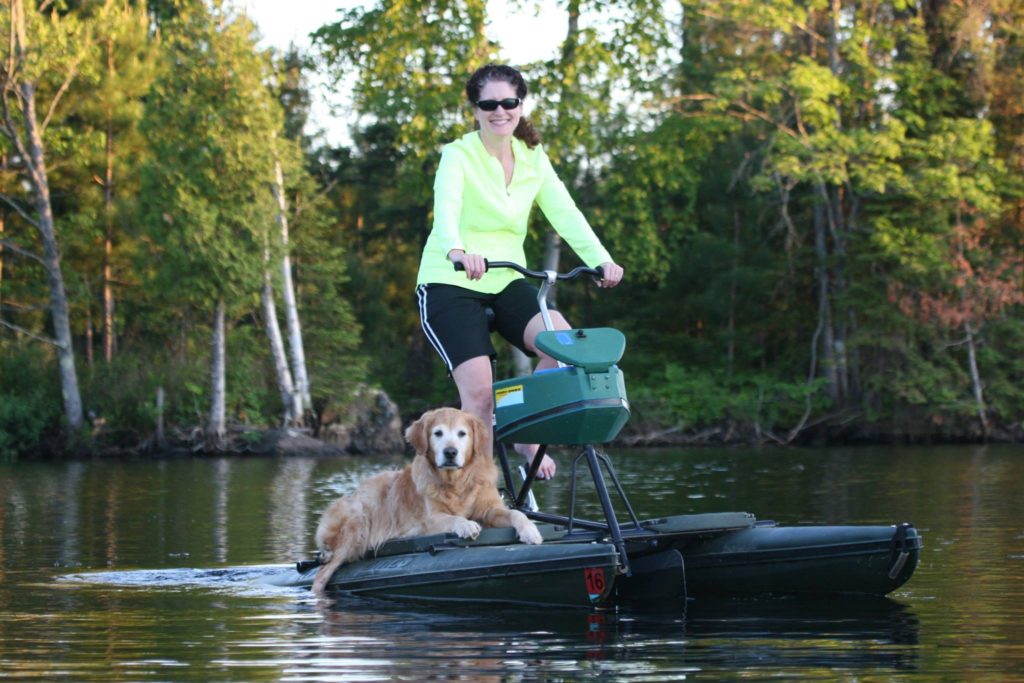 Hydrobikes give you a true, upright, biking on water experience.   Those who cannot ride a bicycle can enjoy Hydrobikes!  No skill or ability is required.  Faster, more stable, and more comfortable than canoes, kayaks, or stand up paddleboards, Hydrobikes give you a high and dry vantage point well above the water.  You never need to get wet on a Hydrobike.
Hydrobike safety and reliability have made them the clear choice of US State and Municipal Parks, Canadian Provincial Parks, Conservation Lands, Resorts, Camps, Kid's Camps, Rental outlets, and thousands of consumers in 74 countries.  Seniors love our Hydrobikes!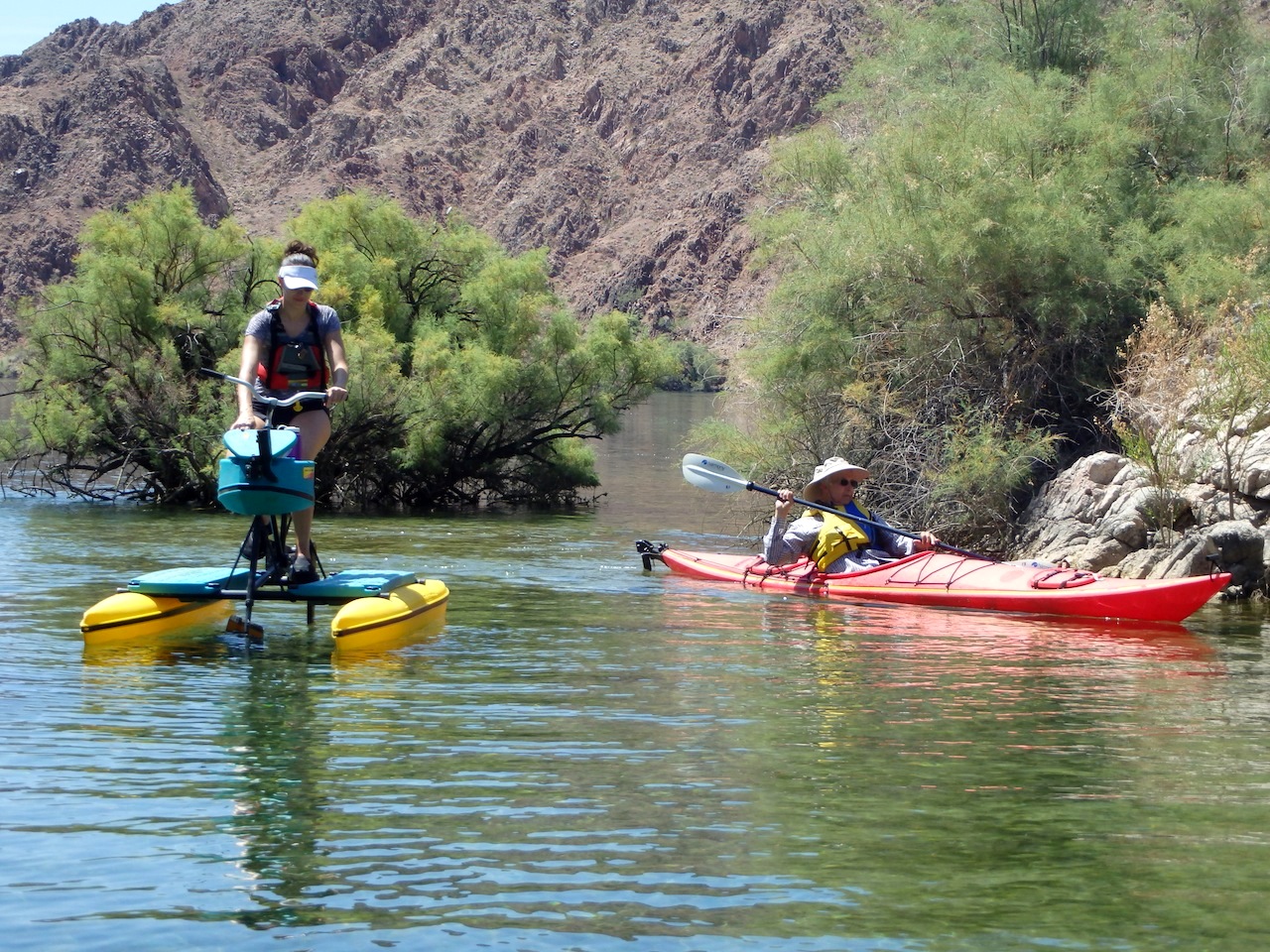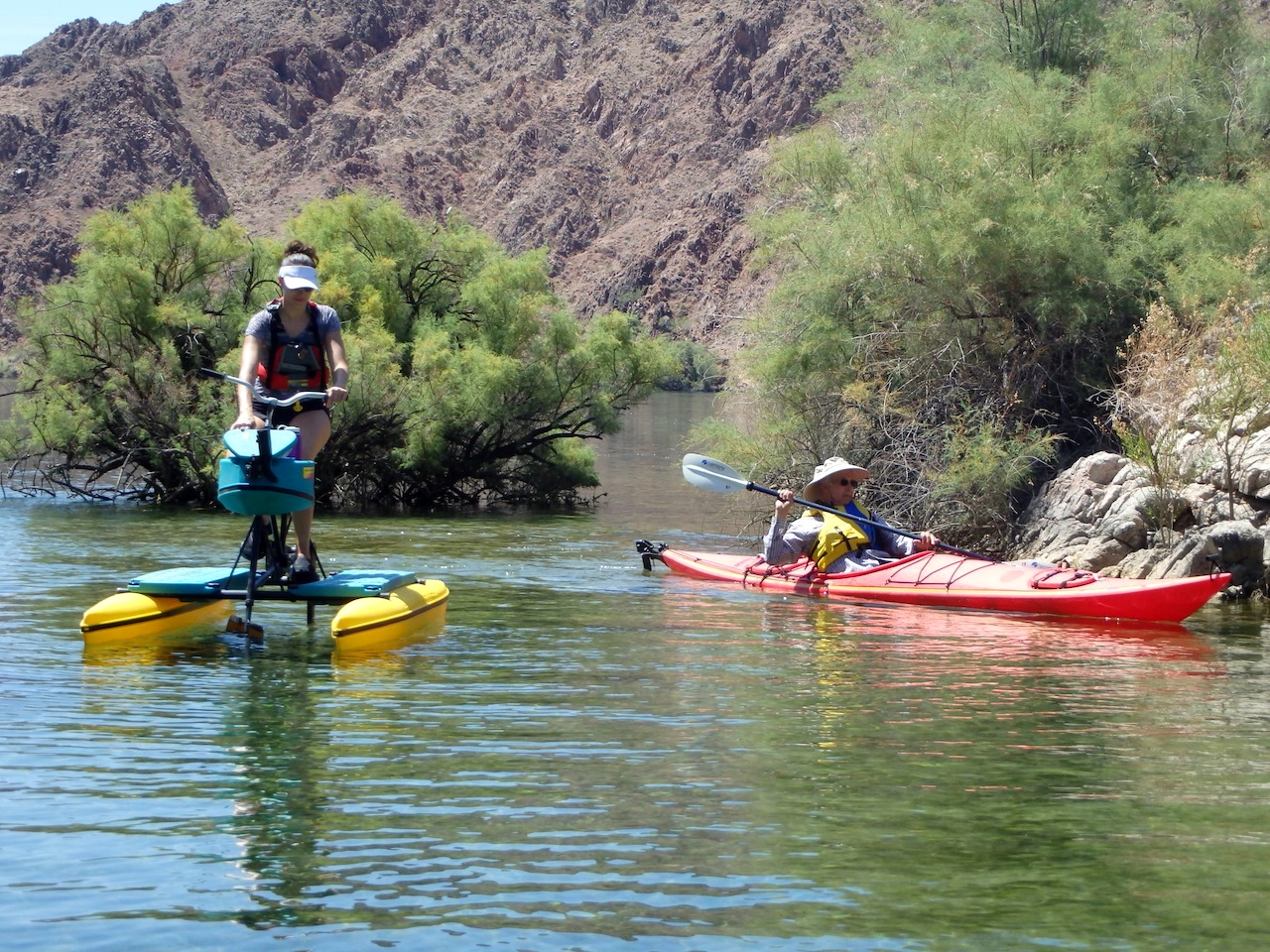 You can stand up and stretch, jump in for a swim, stand on the side deck and fish all day long, or spend the day island hopping.  Silent stealth, and ability to navigate in 12″ of water make Hydrobike Explorer a serious small fishing boat.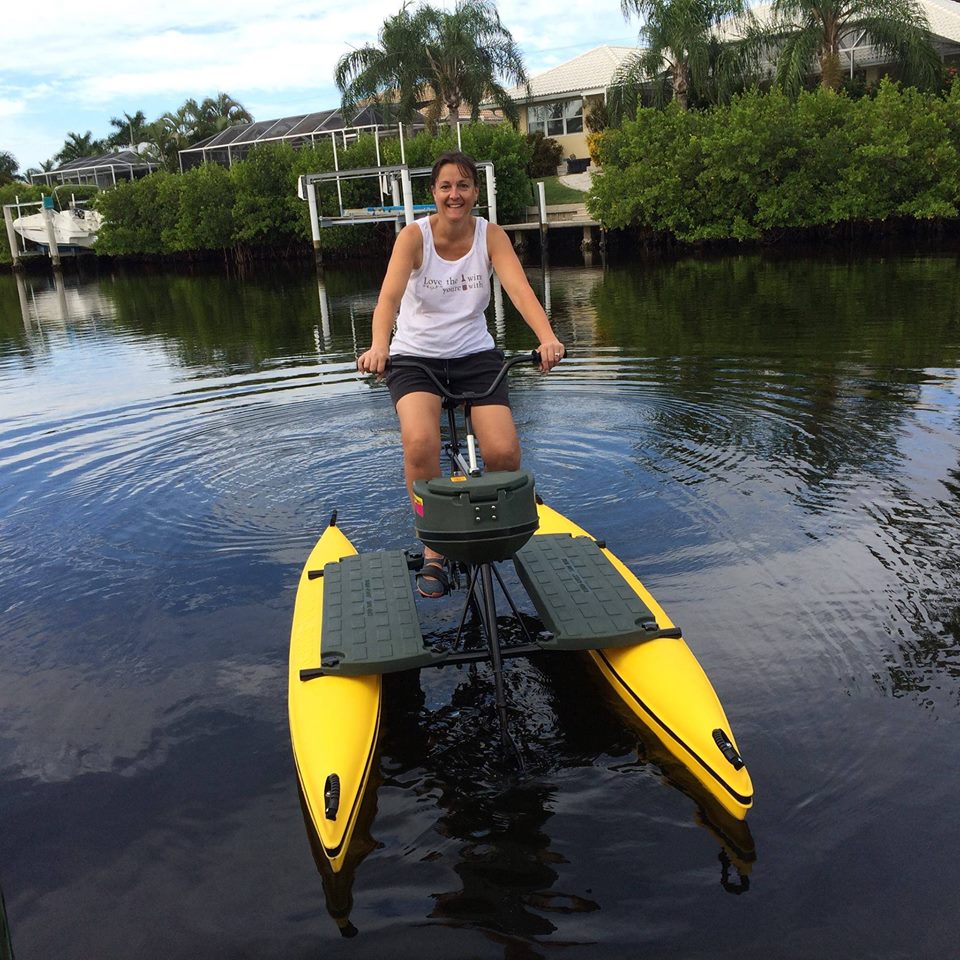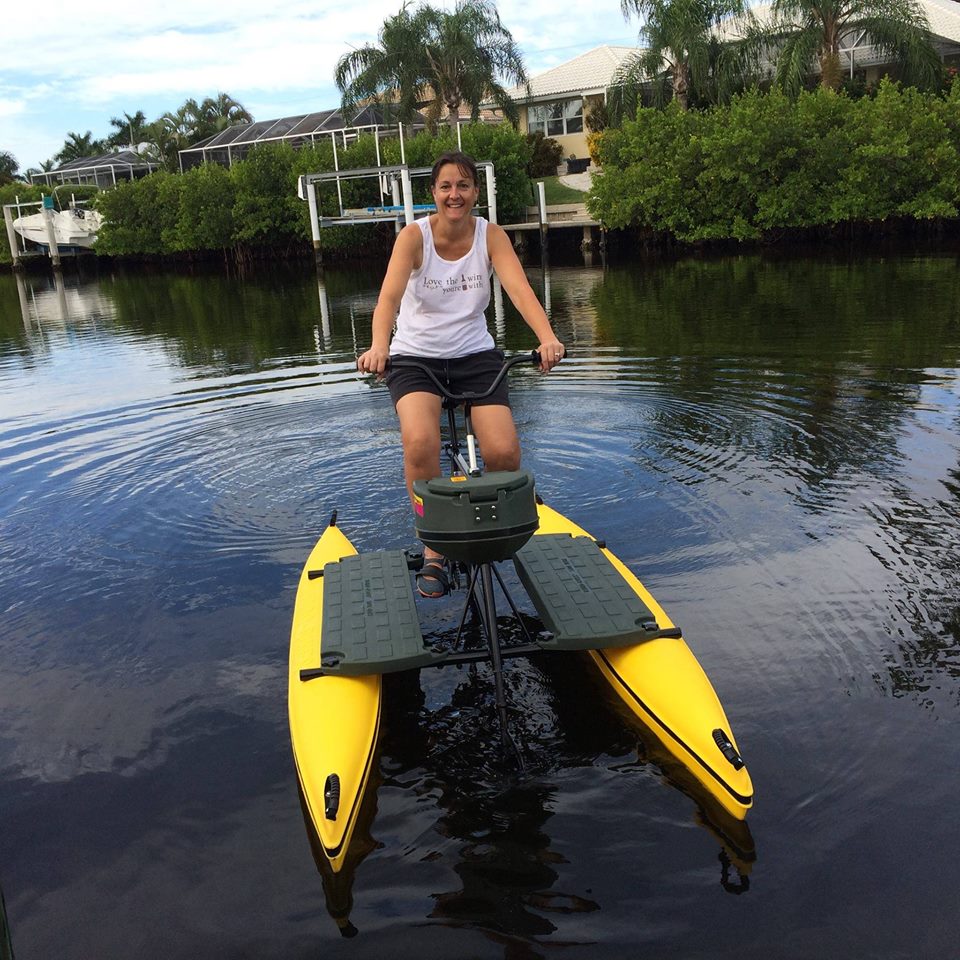 Assessments
"What a fantastic machine! I have worked as an engineer at the Kennedy Space Center for the past 26 years. I had been looking for a pedal powered water bike for some time and researched the various models that were commercially available and finally decided on the Hydrobike. It is even better than I had imagined! It went together so quickly that I had time to take it for a test spin before having to leave. I weigh 235 lbs so I was worried about stability. No problem. It's really fast and easy to handle, just like riding a bike on the water. It was almost effortless…the designer thought of everything!" Jim Myers FL Space Age Water Bike Technology
"I personally believe that the Hydro-Bike Explorer is the most revolutionary concept in cycling since the mountain bike, and would highly recommend it as a very safe and fun watercraft; a wonderful alternative to cycling on busy streets." Randy Schellenberg, CYCLE TIME Products Vernon BC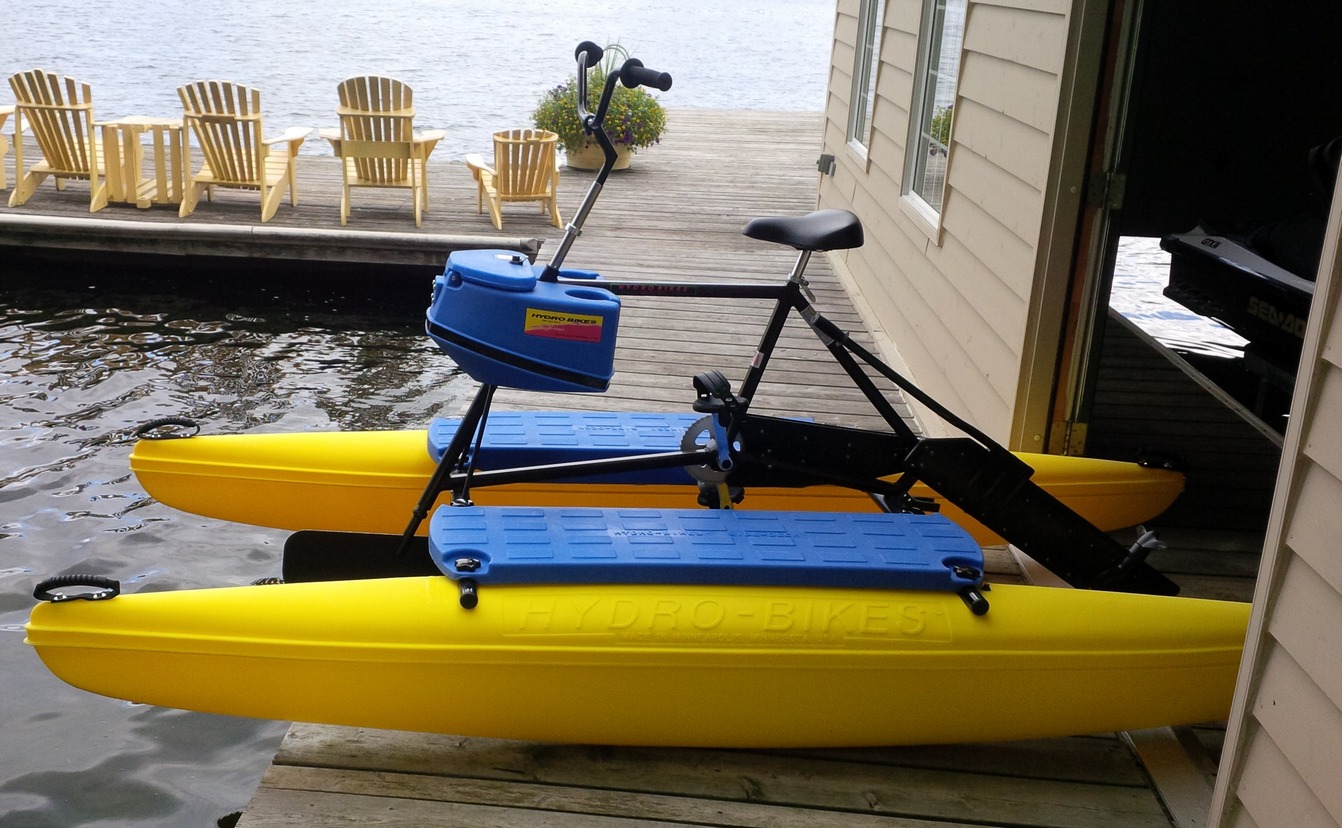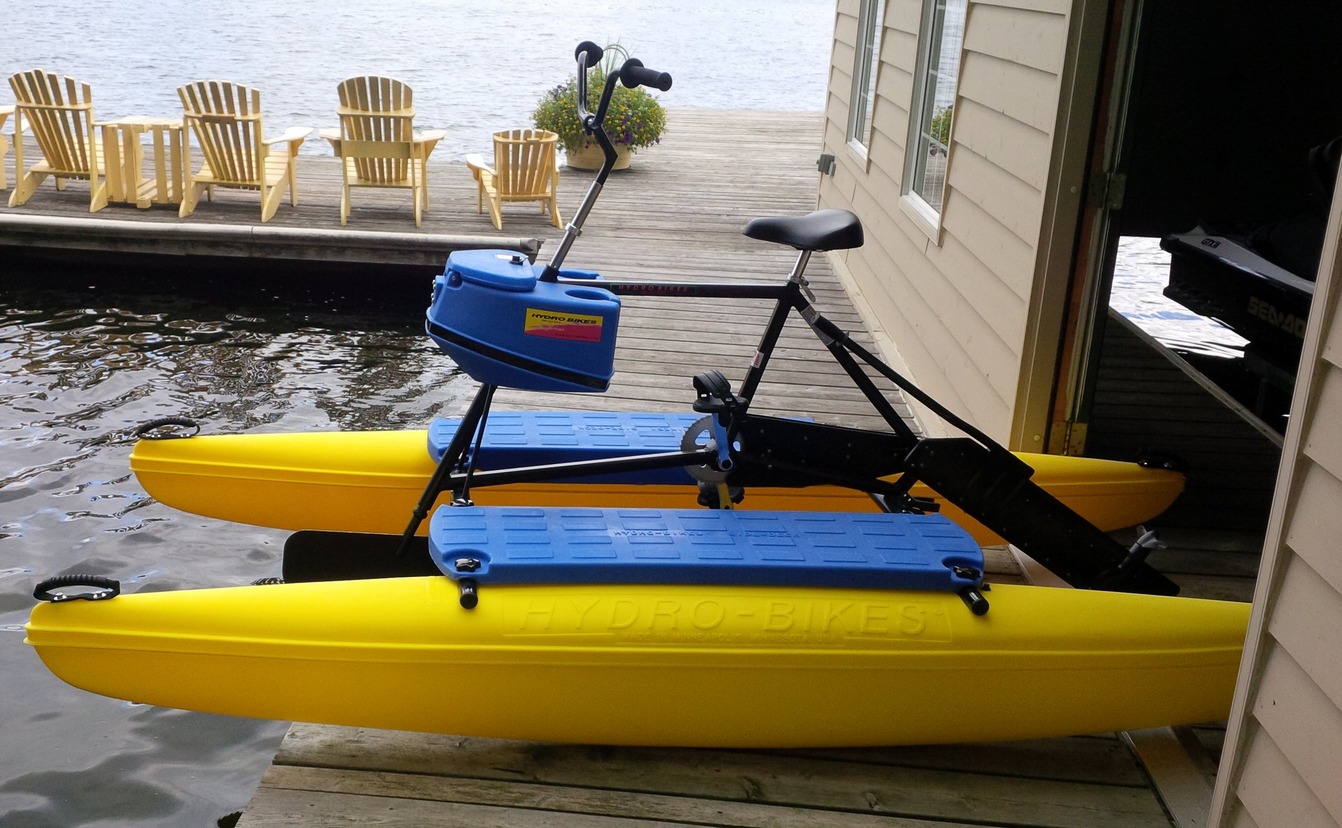 Hydrobike Advantages
Peace and quiet: The Hydrobike is engineered for silent operation
Strong, fast, and light: Developed by a professional canoe designer for optimum buoyancy, speed, & maneuverability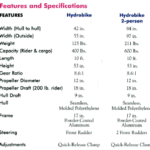 Steady and sturdy: Stable enough to dive from, and handles rough water conditions, including five foot ocean swells
Propeller-driven for the fastest performance: The computer-designed propulsion system is 90% efficient
The long life lower drivetrain is sealed water-tight, providing protection even in salt water
Built-in storage compartment: Stows extra clothes, beverages, and cargo, and features two cup holders
E-Z carrying straps: Optional straps make it easier to tow the Hydrobike in and out of the water
Easy To Assemble: One-person assembly and disassembly in minutes, without any tools after initial setup
Shallow water navigation: Operates in less than one foot of water. Automatically pivots up and over obstacles like rocks or sand. Beaches easily without prop or rudder damage.