Dear John,
I wanted to take a moment to tell you how much we are enjoying our Hydrobike.
I commend you and your company on your service as well. I was thrilled to get my bike as quickly as I did, and your quick and personal responsiveness to calls and EMAIL is so refreshing.
After recently retiring, I wanted to increase my exercise and fun level too – and the Hydrobike is perfect for both. It's great fun, easy to peddle, scoots along fast, and I get the side benefit of toning up at the same time. I feel like a kid again, riding my bike around the neighborhood, just now it's the waterfront neighborhood.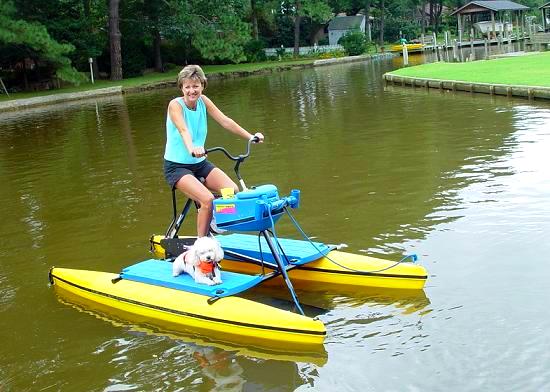 The design of the bike is exceptional – lightweight, handy carrying straps for easy entry into the creek from our dock, sturdy and stable platform, and easy to set the handlebars and seat ergonomically correct for different height riders. My bike was in demand for our recent Father's Day picnic, and we had riders from 8 to 72 years old and they all loved it.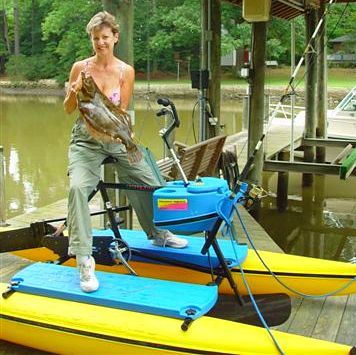 My favorite time to ride is early in the morning or after the sun goes down. I have to sneak out of the house if I don't want Buster, my dog, to go with me. As soon as he sees me heading for the dock and my bike he starts whining to go with me. He's never cared for going out on our 25′ Parker fishing boat, but he definitely loves being close to the water on the Hydrobike.
My granddaughter says I'm a trendsetter because we now have three Hydrobikes on our creek.
Whatever – I'm enjoying riding with my gal pals whenever I can.
Enclosed are a couple of pictures of me and Buster on my bike. Also a fishing picture from a flounder trip in our boat in June. I'm planning to fish the marshes for flounder on my bike in the spring next year when they come inshore.
Please do keep in touch and my husband and I hope you'll visit whenever you are down south!
Betty Madison VA