Call John at 1-888-403-9012 or email john@hydrobikes.com with questions or to order.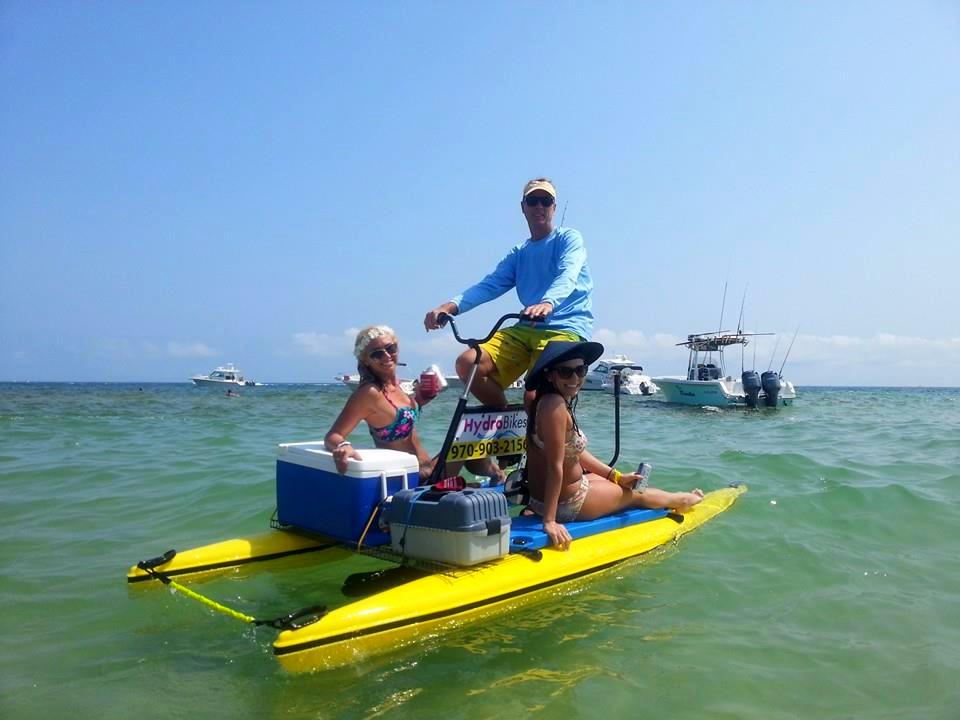 Q: How much does a Hydrobike cost?
A: Retail price is $2799.00 USD plus ship cost.  In the winter months, we may have discounts for volume purchases, along with a Senior's discount.  Seniors love Hydrobikes!  You can call 1-888-403-9012, or email john@hydrobikes.com to check on unpublished offers we have from time to time.  
---
Q: Are Hydrobikes reliable?  What is the Warranty?
A: Extremely reliable.  Hydrobikes are built for commercial purposes.  Hydrobikes are famous for long life. We designed and built our first advanced technology drivetrain over a quarter century ago. They have been torture tested, and build tough to endure heavy usage under extreme conditions. The Hydrobike drivetrain has proven over decades to be the strongest, most durable pedal powered drive system in the industry.  Our frames are strong, lightweight, and sturdy powder coated aluminum.
We don't believe in building a premier watercraft on inflatable pontoons.  Not when the safety of our customers and their families is our number one priority.  Our pontoons are unsinkable, and virtually indestructible.  Rotationally molded, seamless, high density polyethylene with 400 lbs of stable floatation means all you have to think about is having fun!
Warranty: Nothing in this industry compares.  In fact, they wouldn't dare!  Competitors are often using China built components.  With Hydrobikes you can count on the finest in USA built quality and a convincing warranty to back it up.
Pontoons, 2 years
Frames, 2 years
Drivetrain, 1 year
Many 25 year old Hydrobikes are still gracing waterways in commercial settings, and providing family fun for everyone.  In fact, Hydrobikes often get passed on for the next generation to enjoy!  You won't have trouble finding parts when you need them either.  
Beware of other water bikes built 'offshore.'   Ask them where the bike or it's components are built, or ask us!  We know the serious water bike world and the competition better than anyone.  We started it all.
Hydrobikes are the Rolls Royce of water bikes. With simple maintenance your Hydrobike will provide many, many years of trouble free enjoyment.  Quality is evident in every feature.   As a rental unit, Hydrobike reliability means year after year of consistent revenue generation.
---
Q: Do Hydrobikes come assembled? Are they difficult to put together?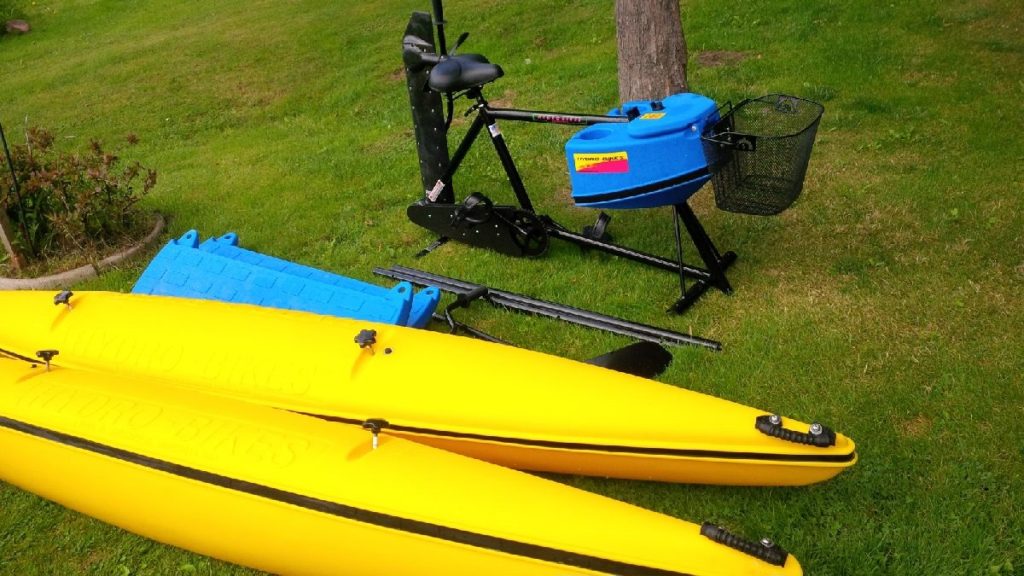 A: Hydrobikes come in 3 boxes. 2 long pontoon boxes, and 1 frame box. Initial assembly takes 20 – 30 minutes with only a small adjustable, or crescent wrench to tighten the seat required. After that, assembly and disassembly takes just a few minutes. The entire bike is held securely together by 8 hand tightened frame knobs as illustrated below.  The inventor thought of everything to ensure your enjoyment and safety.  Check out assembly on YouTube.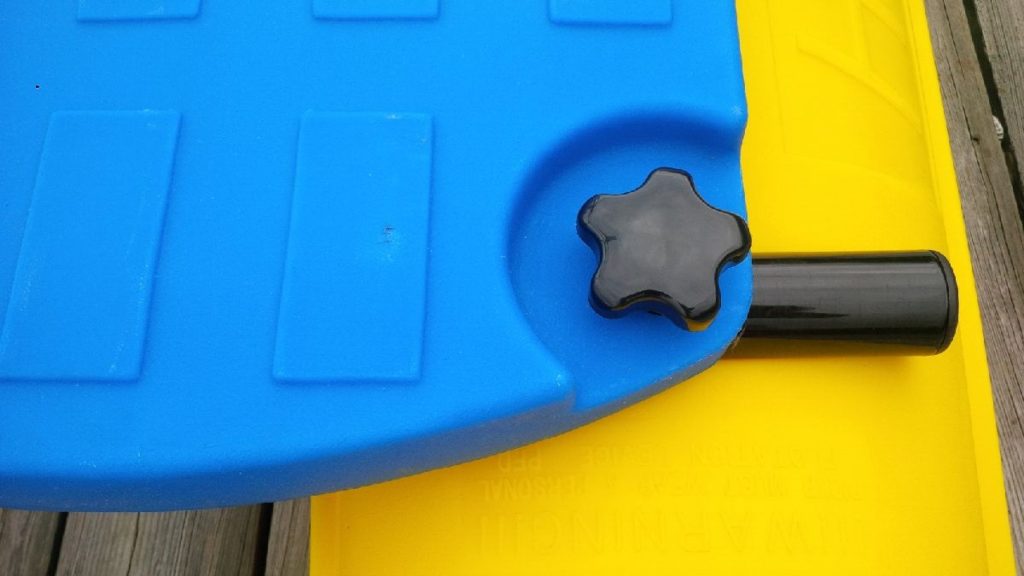 An assembly guide comes with your Owners Manual. I provide supplementary information and guidance on the phone if you need it. You can see the basics here in this video. Since this video was made, we've made assembly even easier for you.
---
Q: What kind of maintenance is required?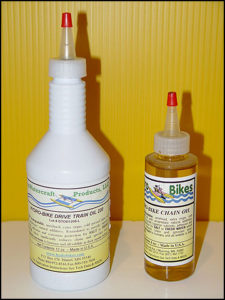 A: Very little. Hydrobikes can be operated in freshwater or saltwater.  A saltwater maintenance schedule is included in your owner's manual.  Hydrobike drivetrains come oil filled and ready to ride.  You will be lubricating your chain now and then just as you would a bicycle chain.  Hydrobike chain oil is included.  Annually, it's a good idea to replace the oil in the drive unit. This is a simple task that can be accomplished in minutes.
---
Q: How much does a Hydrobike weigh? What are the dimensions when assembled?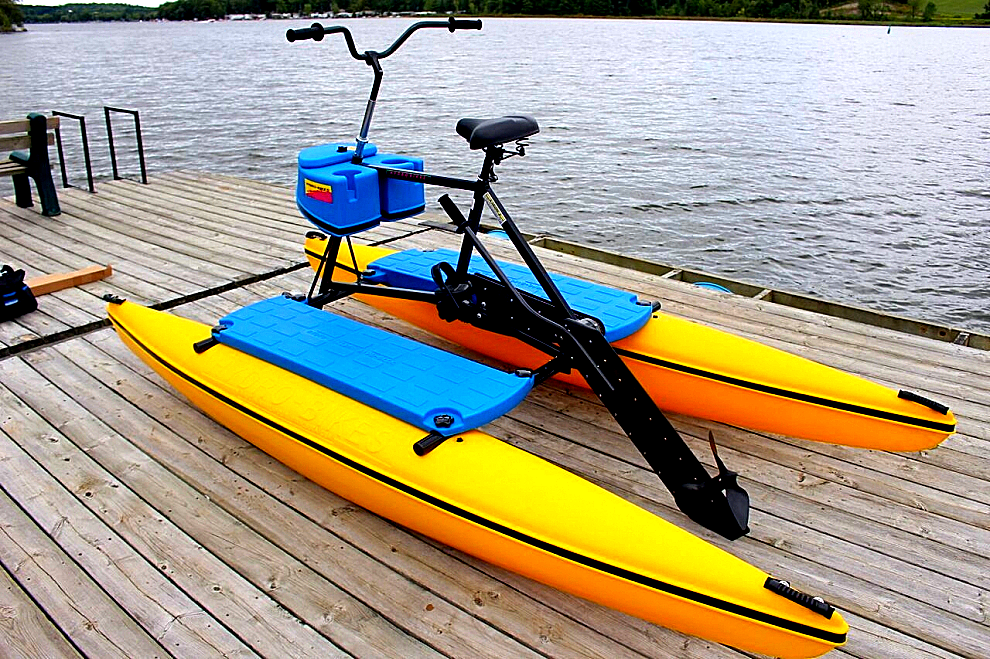 A: The hydrobike is 10′ long, 55″ wide, and 53″ high when assembled, and weighs about 120 lbs with the front storage console installed.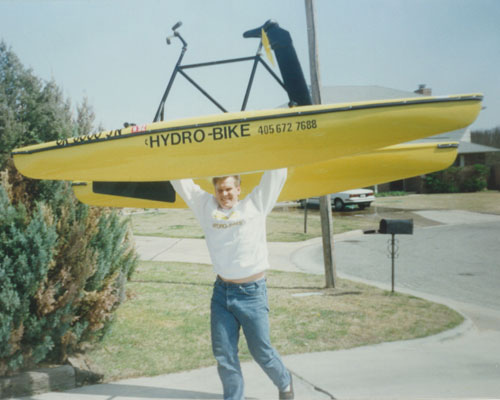 It can easily be carried / lifted by two people, or dragged by one person by use of the pontoon carrying straps.
You can also disassemble the Hydrobike quickly and transport in pieces to the waters edge or dock. The heaviest components are 35 – 45 lbs.
---
Q:  I'm a senior. Will I be able to handle the Hydrobike? How can I get it up on the dock?
A: Yes!  Seniors love Hydrobikes.
Not only can seniors handle the Hydrobike, they are among our largest customer group.
Hydrobikes not only offer a low impact, easy exercise and rehab activity, we've also built it with everyone from 8 – 80 in mind. The bottom of the pontoons narrow down making them very easy to slide up onto the dock if needed thanks to the handy carrying straps on each pontoon end.  You can grab a strap in each hand and slide the Hydrobike up onto the dock.
If your water level is low, you can get a helper to lift one side while you lift the other. Of course you can leave the Hydrobike in the water, or pull it up onto shore. Whatever is best for you, Hydrobikes have accommodated all scenarios.
---
Q: Is the Hydrobike safe? Will it tip?
A: Hydrobikes are extremely stable.   They are unsinkable and virtually impossible to tip.  Hydrobikes will float 400 lbs worth of rider and cargo.  250 lb. riders can jump up and down on side decks without tipping.  Hydrobikes can operate safely in 4-5 foot waves.  You can jump off and climb back aboard without tipping.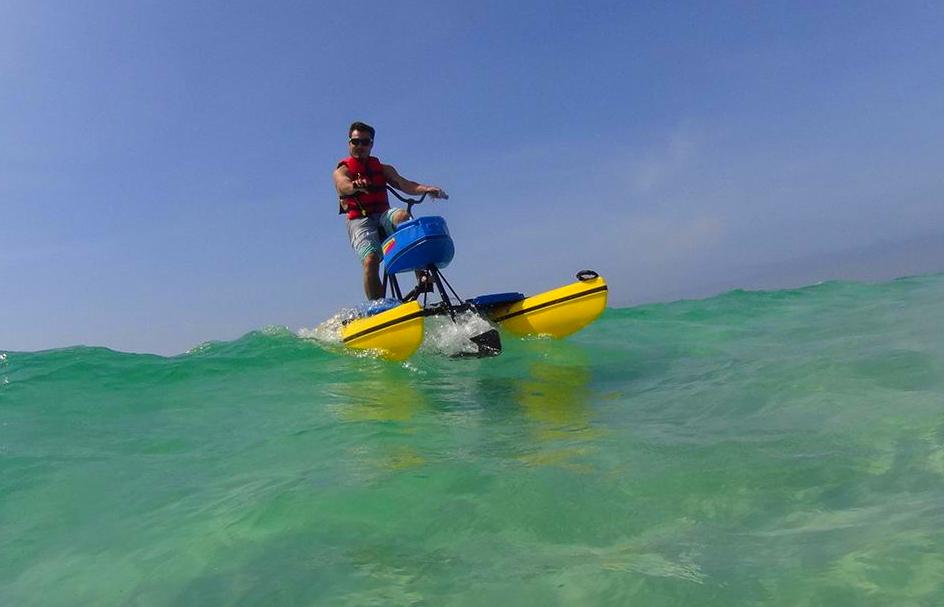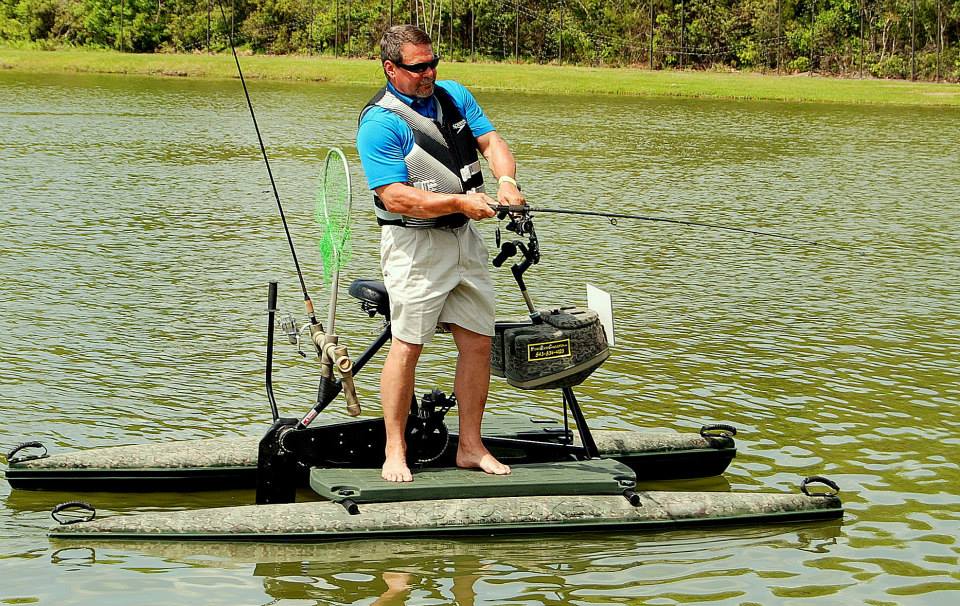 They are far more stable than canoes, kayaks, and fishing kayaks … and many small boats. The Hydrobike safety and stability has made them the choice of many discerning groups like US State and Municipal Parks, Water Parks, Kids Camps, Premier Resorts, Hilton, Hyatt, and Marriott Hotels, and water sport rental outlets worldwide.
You can even bring your the dog along for a ride!
---
Q: How can I get started in a Hydrobike rental business?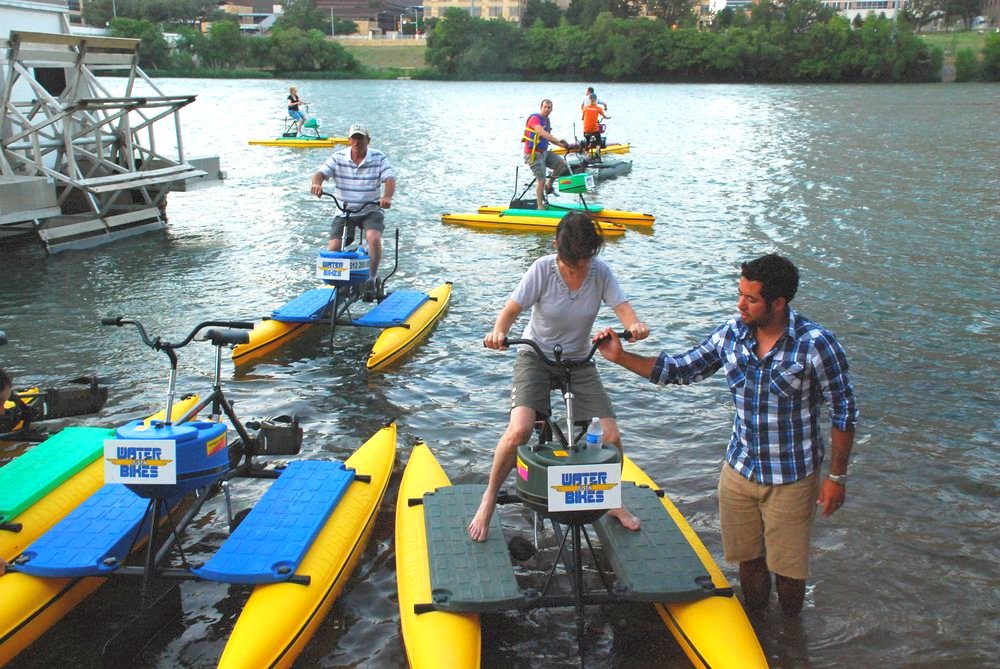 A: Hydrobike water bikes offer you an outstanding opportunity to profit in a proven and uniquely fun business!  Hydrobikes generate instant appeal and rental revenues where ever they appear.  Learn more about how to profit with a Hydrobike rental business at my rental page.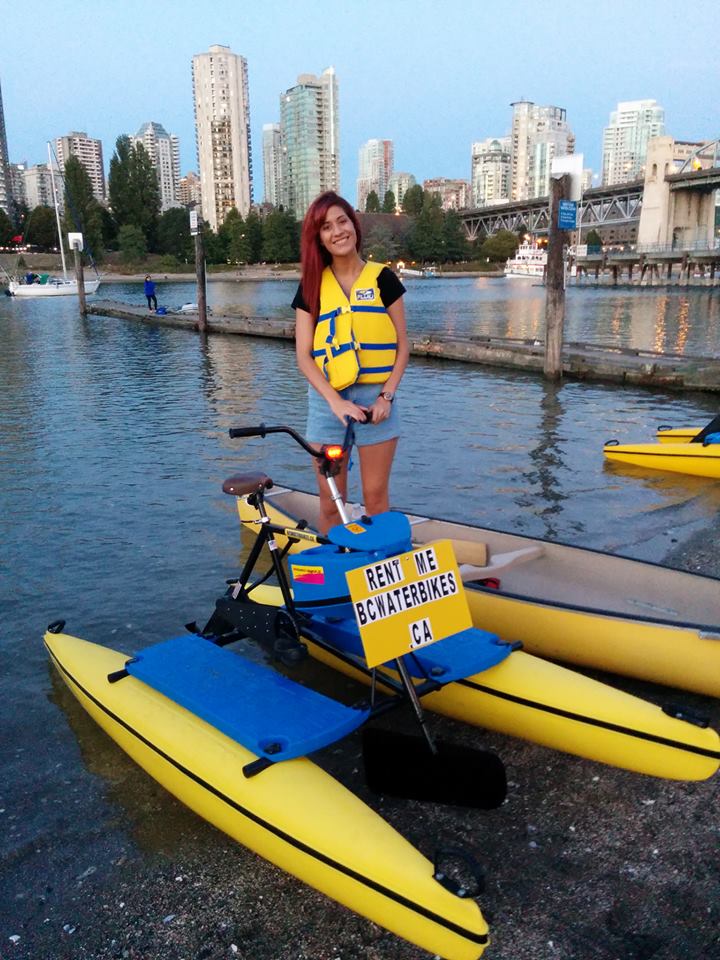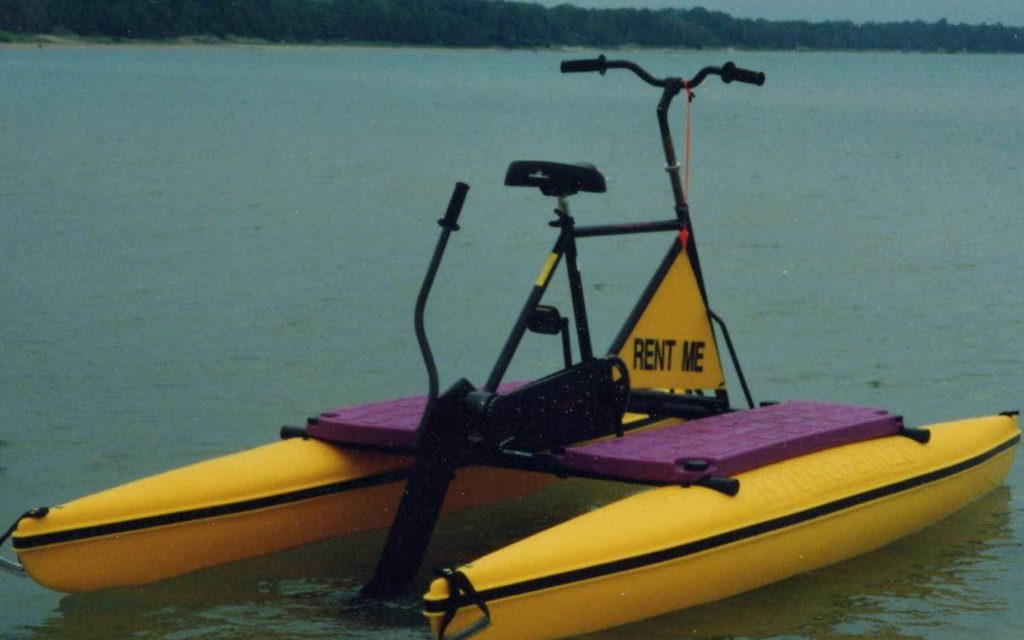 I have special unpublished volume discount pricing available to those wanting to showcase Hydrobikes in a rental setting.  I also offer free Hydrobike rental business consulting.  I can set you up with insurance, waivers, and help get you location approvals.  My 'Profiting With Hydrobikes' comprehensive guide will enable you to learn much more and hit the ground running!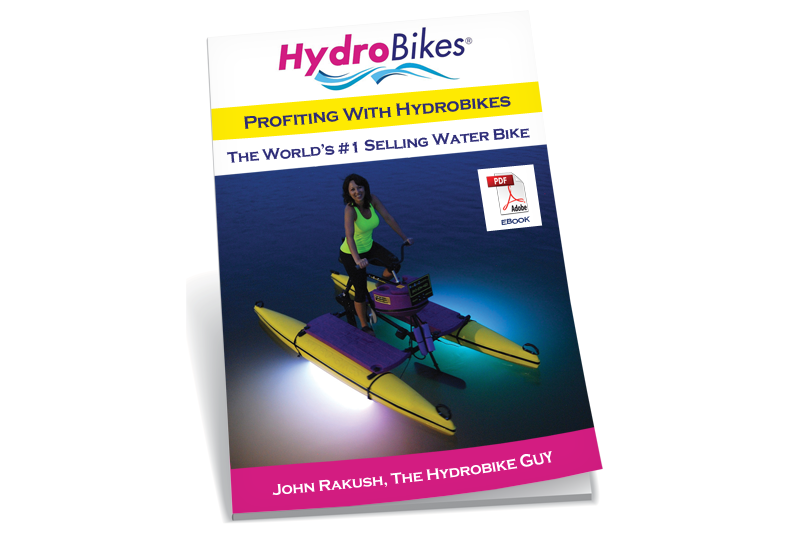 Comprehensive Hydrobike Rental Business Guide
---
Q: Are Hydrobikes easy to ride?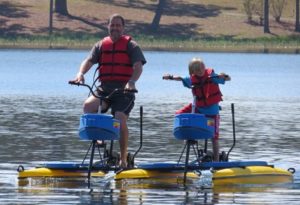 A: Very easy! Everyone from 8 – 80 can enjoy Hydrobikes. This is easier than riding a bicycle.  In fact, those who cannot ride a bicycle can enjoy riding a Hydrobike.
There is no balance, skill, or extra strength required. The spinning propeller underwater offers very little resistance but offers great efficiency. You'll be amazed how quickly you move away from the dock or shoreline. You pedal forward, and you pedal in reverse to go backwards or assist in stopping. By turning the front rudder in slight movement left or right you will move in those directions.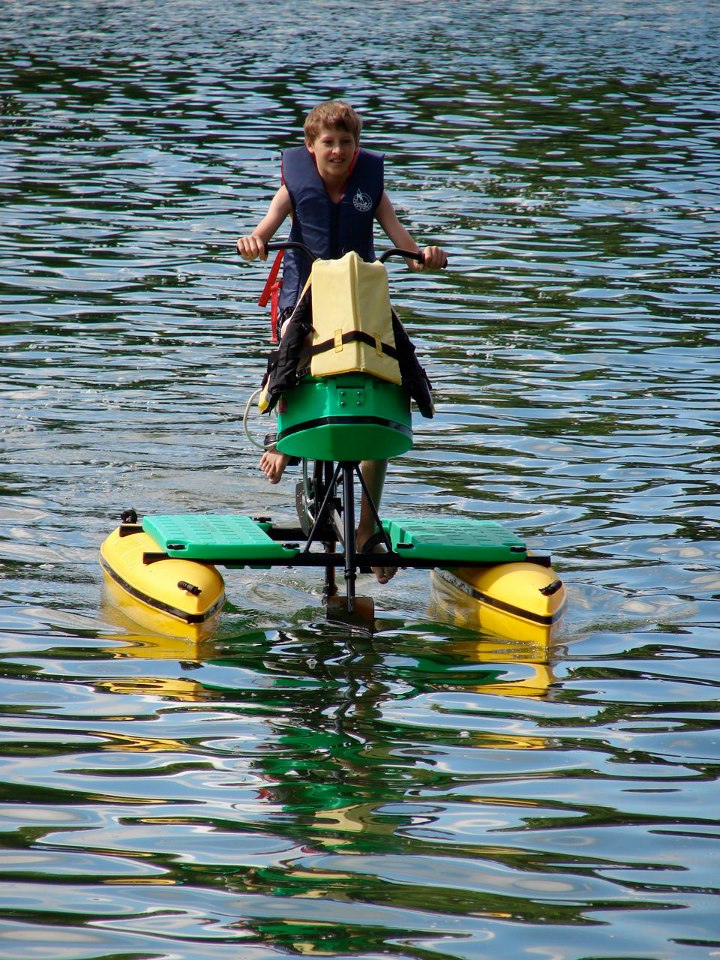 You can also turn the rudder a greater distance left or right and use it as a brake to come to a complete stop. Our watercraft is extremely easy and safe to operate. There are no gears or brakes. Seat and handlebar height is adjustable to accommodate people of all sizes. This is an activity that your entire family will enjoy in complete safety.
---
Q: What are the Hydrobike pontoons made of? Can they sink?
A: Hydrobike floats are unsinkable! They are virtually indestructible. For this reason our pontoons are used by emergency and rescue forces for lifesaving applications 12 months of the year.
We designed and built our own pontoon molds. They are rotationally molded, seamless, and composed of high density polyethylene. This process ensures maximum strength, durability, and fail safe flotation. Our pontoons come in different colors. Our high visibility safety yellow colored pontoon gives you maximum safety on the water.

---
Q: Do I need a trailer, truck or van to transport the Hydrobike?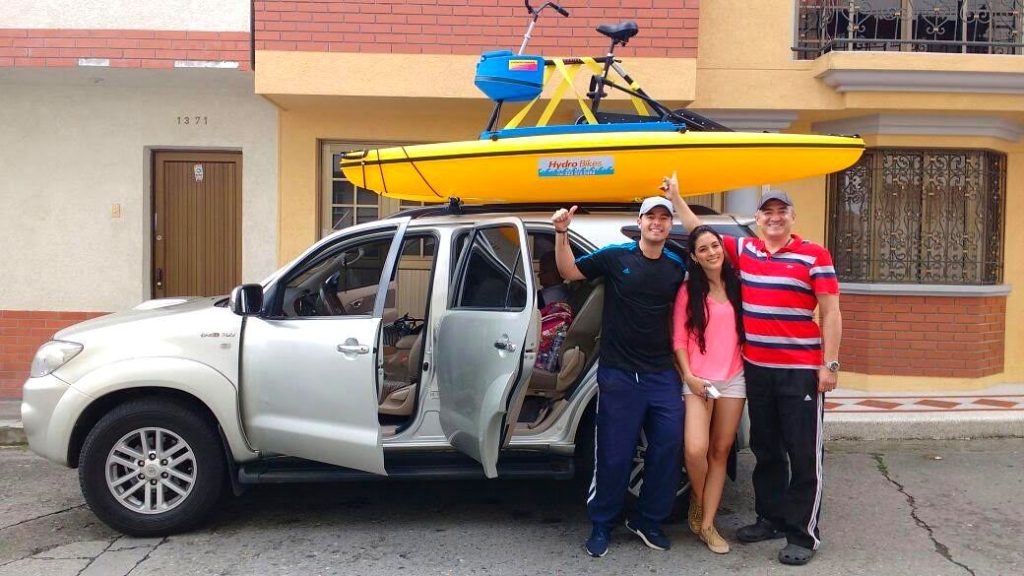 A: No. Hydrobikes can easily be transported, even in small cars. The floats fasten to roof racks and the rest of the Hydrobike can be carried inside the car. If you do not have a roof rack, you can visit any canoe or kayak outlet to purchase the foam supports to rest the pontoons on. Of course a pickup truck, van, or SUV can handle all the components easily.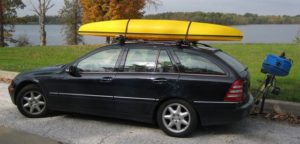 ---
Q: Where do I get Hydrobike parts or service?
A: You can purchase Hydrobike parts at our parts page. Don't worry if you're not sure what you need. I can figure that out for you. Contact John at 1-888-403-9012, or by email at john@hydrobikes.com. We have all original parts in stock. I may be able to point you to a dealer in your area. I can take your order over the phone and get it processed with credit card information. I can also help you with installation of all parts. I have ready made instruction files I can send over quickly via email.  Most customers are able to complete the repairs or parts replacement.  Required parts can be sent overnight via UPS if you need them quickly. Installation of all parts is quite simple. In any event, I'm here to help you get back on the water as soon as possible.