Hydrobike Fishing Boats:  More Stable Than Fishing Kayaks, Casting Deck, Better View of Structure, Portable, And More!
Hydrobike fishing is an outstanding method of catching big bass and your favourite game fish!
*Check out our better choice over Fishing Kayaks: Hydrobike Angler Edition.
Check out my Hydrobike Bass Tips
Hydrobike fishing is a great way to explore your favourite fishing haunts and get fit at the same time.   You'll out fish your expectations while cycling on your favourite waterway.  I'm a dedicated bass fisherman with 40 years experience.  I'll often leave my Legend Bass Boat at home to cruise shorelines and save gas with my Hydrobike Explorer.  It has enabled me to land some big bass!   A 12″ propeller spins quietly underwater allowing you to get close to big bass even in waters as shallow as 12″.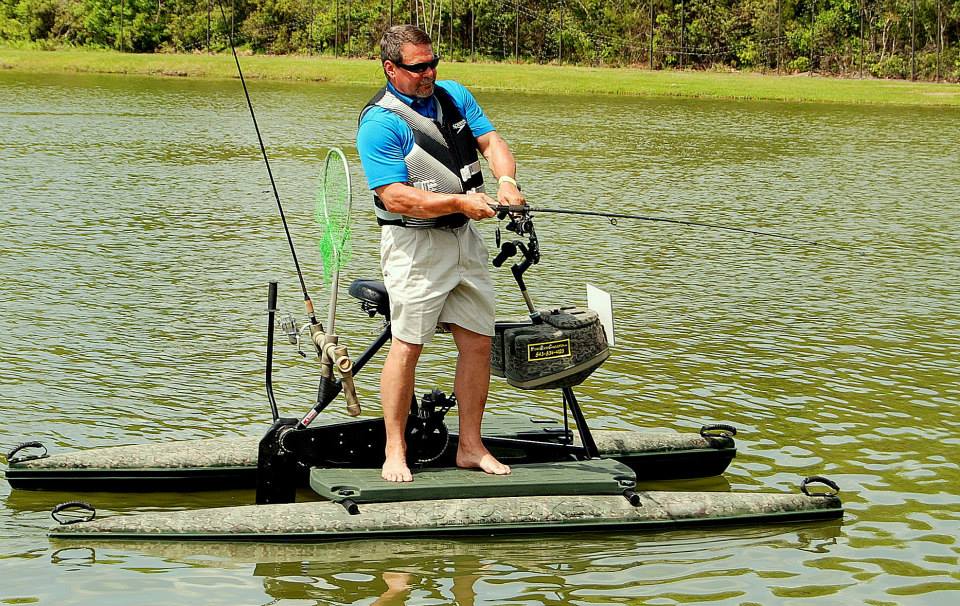 Hydrobike Fishing Boats Are Much More Stable Than Fishing Kayaks
Hydrobikes have a platform on either side of the frame to provide stable casting decks with a high vantage point from a seated or standing position to view underwater structure.  You also get 400 lbs of floatation.
Transportability and portability are no problem. Quick assembly and tear down without tools gets you in and out of the water in mere minutes.  You can hold your position without anchoring by pedalling and fishing at the same time.  You won't get arm weary or wear your shoulders out like you would after a day of fishing from a kayak.
Hydrobike Angler Edition: 600 lbs Capacity, Stability, Deck Space, High Vantage Point
For a beefed up version, with 600 lbs of floatation … and the ability to bring a fishing buddy along, you might want to look at our Hydrobike Angler Edition.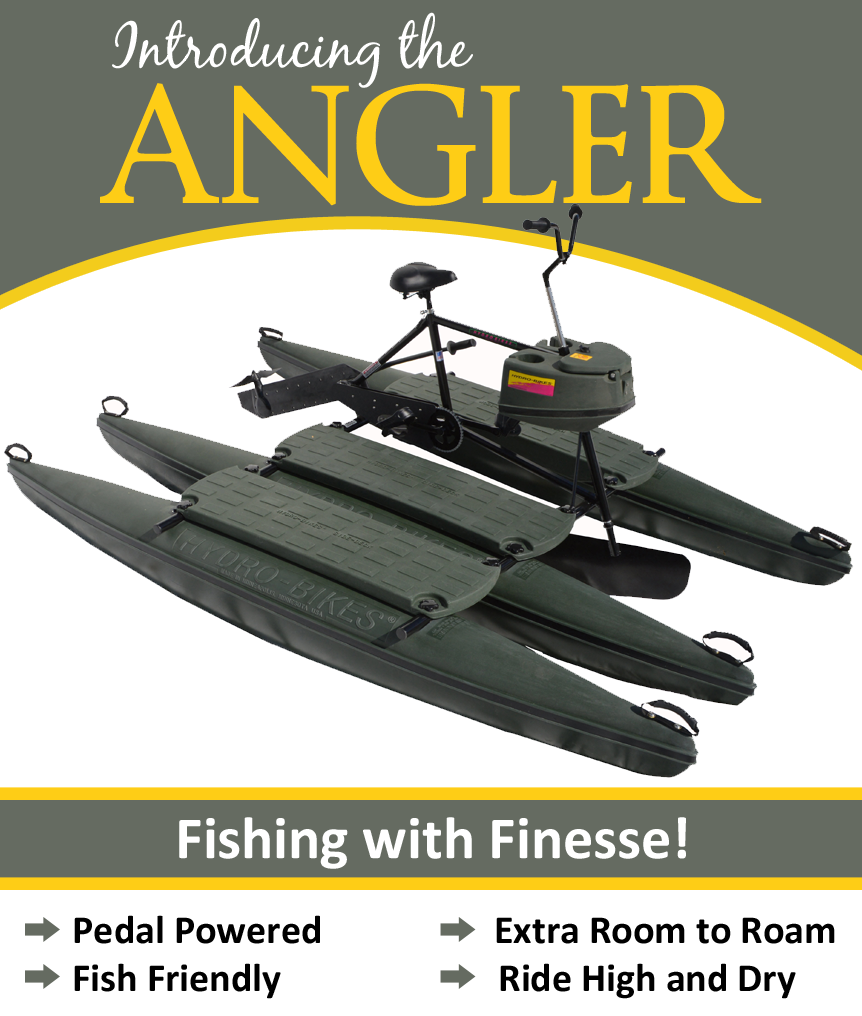 The Hydrobike Explorer and the Hydrobike Angler should be a serious consideration for all those looking at fishing kayaks and other non motorized fishing boats.   Most of all they catch fish!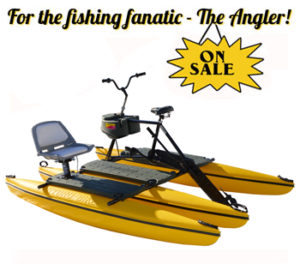 Hydrobikes are pedal powered with the most advanced, commercially tough pedal drive in the industry. They have proven themselves on all oceans, lakes, rivers, and streams in 74 countries since 1990. Many original units are still gracing our waterways.
Use the custom front mounted rod holder for trolling or freeing up your hands.   The roomy storage console with flip up lid can hold ice for your catch … or your fishing gear … or lunch and drinks for the day.  Two molded in mega sized drink holders make sure you never get thirsty!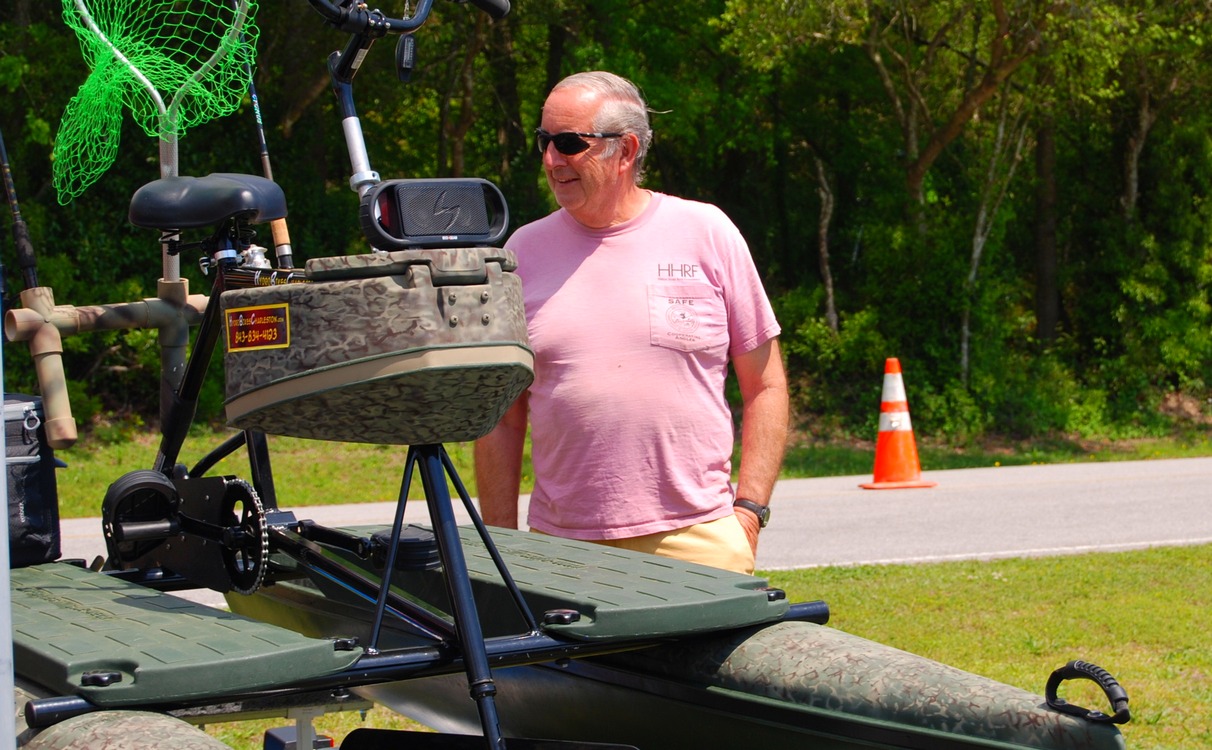 Whether you choose the Hydrobike or the Angler Edition, both will allow you to sneak up on wary fish. Whisper quiet operation comes from a computer designed 90% efficient underwater propulsion system. Catamaran styled pontoons are sleek and streamlined to glide through the water briskly with barely a ripple. Positioning is easy … even in strong winds.
For information, or to purchase any Hydrobike product contact John at the manufacturer's desk, by calling 1-888-403-9012, or emailing john@hydrobikes.com
My Favorite Fishing Sites
Bass Fishing Tip For Beginners
Kevin's Bass Fishing Tips, techniques & reports
Ontario Fishing Search Engine Lodges, camps, resorts, outfitters.