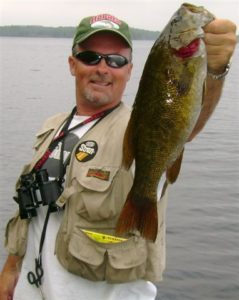 Learn about Hydrobike Explorer: In the US . In Canada
Bass Fishing Tips from the Hydrobike Guy
Hydrobikes get to places where boats can't go, and allow you to quietly approach favorite hot spots and the finest fish holding structures with nary a ripple. No motor, no anchor, no problem. This is no slow or stodgy paddle boat! Getting to the strike zone unannounced is the key. Staying there undetected is easy with your Hydrobike Explorer watercraft. Follow my tips and I'll guarantee you'll singlehandedly outscore any boatload of wide eyed folk tripping to the community honey hole.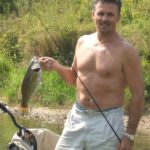 The stable stealth and secure high and upright vantage point of Hydrobike Explorer is effective for identifying fish holding structure and spotting snack seeking trophies cruising the edges. With your side decks being so close to the surface there's no need to net your catch as lipping is easily accomplished.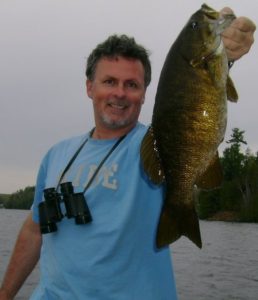 Deck and storage space along with 2 mega sized drink holders allows for your tools of the trade, drinks, and all the calories needed for a hot day of lunker bass fishing. With a 400 lb float capacity, big boys are welcome. You can cruise at 5 mph or pump hard to maybe 10 when it's time to head for cover. Calories are the only fuel you'll burn with a Hydrobike.
If you wanna bring along a partner to cover twice as much water you can do that with an Explorer built for two. This 80 square foot platform gives you lots of elbow room and 600 lbs of flotation for tag teaming your underwater targets.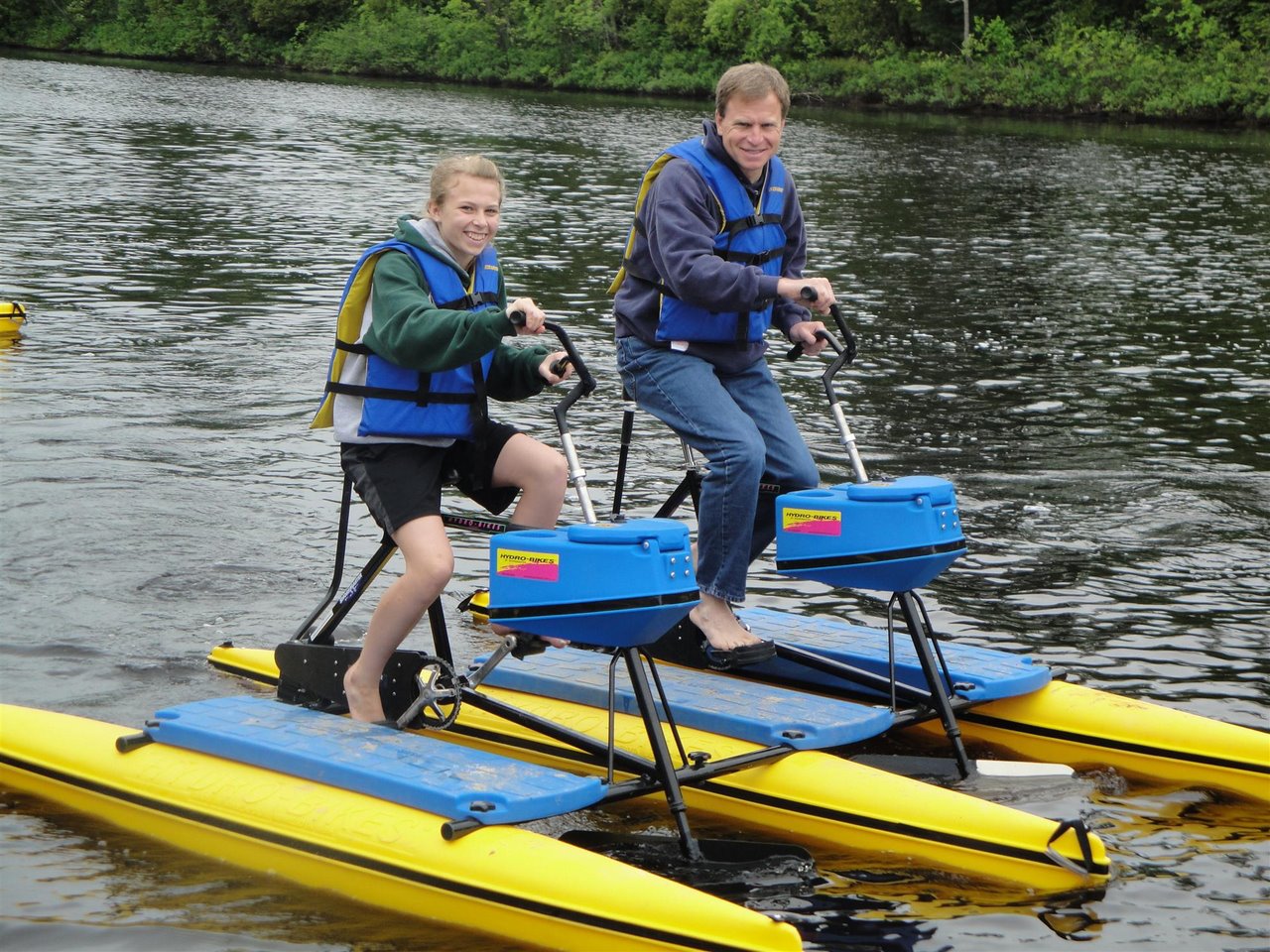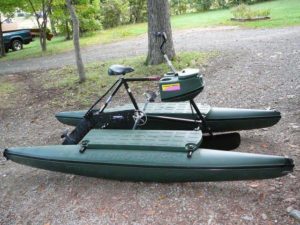 I've been bassin' for over 40 yrs and Hydrobike Explorer is the real deal when it comes to bagging a boatload of biggies. I'll often leave my 17′ Legend in the driveway and opt for my Explorer. It's just too easy transporting and fishing with a Hydrobike, and I'll save a ton on gas too.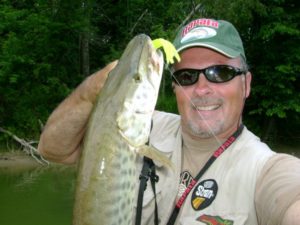 Fishing for Smallies is what I like to do most, but Bucketmouths, Musky, Walleye, & Pike are no stranger to my Explorer exploits. Buddies do well with Salmon, Red Fish, Flounder, and more.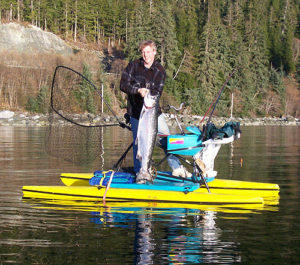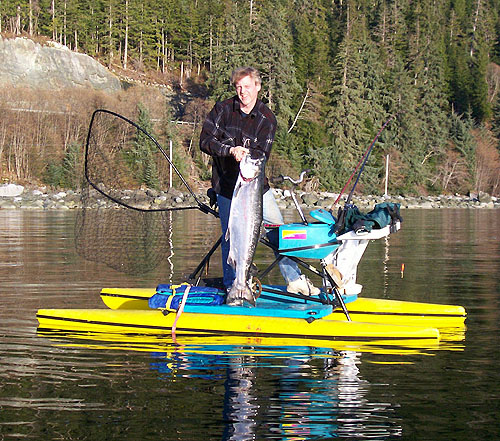 Flipping and twitching Mr. Twister chartreuse / blue with black flaked Fat Tubes, and gently twitching and jerking a softly tossed floating or shallow running, naturally finished Rapala are favorite techniques of mine. Master these and you'll catch a lot of big bass. I use light line (8 lb test maximum) for better feel and to make the presentation near invisible. The tubes I rig by inserting a very small hook through the nose tip that barely hangs onto the plastic. This gives the tube very little excess weight and allows it move freely with a barely visible hook. The Rapala must be tuned and stay tuned to make it run properly.
I tie my line directly to the Rapala eye. I don't believe in snaps, swivels, or leaders. Everything extra added to your offering takes away from its authenticity. Bass get big by being smart and observant of their surrounding. If you throw something all accessorized that hawg is going to head in the other direction. You always have to outsmart the big ones. Worked properly, these presentations and techniques tend to widen the strike zone. Bass will leave the confines of their territory to chase down your tantalizing tidbit. Sticking with a Fat Tube and a Rapala, I'll take a rod rigged for my soft bait, and one hard. The Hydrobike rod holder comes in handy for the extra rod in tow, and works well for trolling too.
Getting fish to smash topwater makes my day. I'm not into dead sticking. So I like to flip, twitch, and jerk topwater in low angle light, and tick the peaks of near topwater structure in high angle heat. You shouldn't shy away from fishing in the rain either. It's always paid off nicely for me.
Ideal bass catching temperatures for me are between 65 – 80 F. Smallies are more active on the cooler side of that range, buckets on the warmer. Cloudy, low light days are best. Don't overlook the rivers. Many hold goodly amounts of big bass. As water cools Smallies move to shallower water and nearer to the surface. This is a good time for some top water acrobatic action. Smallies tend to gather in schools according to size too. If you are catching small ones carry on.
You can toss towards the shorelines all day long but keep moving and make every cast count. I mean take dead aim for your prime structure target. Accuracy is critical. You often only get one chance to tantalize a big one. Keep quiet and keep your distance. Make longer casts into less than 5′ of water. Don't drop bombs from the sky. Soft flops work best. If the bass aren't there move a touch deeper and look for structure.
Guide your Explorer into the strike zone and keep it there by gentle back peddling if needed. Fan cast the zone and work it good, but don't waste more than a few casts at each stop. If a bite is there it'll happen first, or fast, or furious. Be ready for the hook set and don't be shy. If you hit and miss, or spot a bruiser on the prowl, toss a couple more times to encourage an angry reaction strike. Big bass can be territorial. Invade his space.
Nothing turns my crank, or is more unnerving than a boiling top water smash and grab when you least expect it. It's not for the faint of heart! If it doesn't happen fast move on. Fishing is as much about numbers as it is about reading the water and the conditions. You can toss 200 times a day in a dozen spots or you can toss over a thousand times a day in a hundred. Keep moving and tossing and watch your count rise.
If my top water twitch and jerk technique doesn't produce, I'll do whatever it takes to get a Mister Twister chartreuse tube, or a Rapala stick down a couple feet and swimming past good looking structures. If the fish are still reluctant, shake it up. I never fail to finesse lethargic bass by moving slow and shaking a soft Exude tube bait past their stomping haunts.
For big bass, look for shadow producing rocks (medium to large boulders, not pebbles) that provide perfect ambush cover. Find shadow casting wood too. (submerged logs, stumps, trees with larger trunks) Bass love wood. I've probably caught most of my big ones in it, around it, under it, on top of it, and while bumping the stump. Tossing past the target and working through it works well and prevents spooking.
Seek out edges and ledges. A structure transition where one structure type ends and another begins. This could be anything from a foam line, to a dropoff, a weed edge, a change in bottom cover, where a river flows and mixes with the lake water, breaklines where you transition from one depth to another, one cover type to another, one water temperature to another, or one water color to another and more.
Look for overhead cover. Could be weeds, logs, brush, or foam. High sun and warmer than comfort zone water will send fish there for a break or to rest a full belly. Pitch and flip these mats. Get under it, get along side it, get on it, rip through it, poke a hole in it and drop your bomb. Predators are what lies beneath. Many mammoth mossbacks occupy these weed woven bunkers. Be patient. You'll be tossing lots of salad. You gotta do the salad before you get to the meat. My biggest bucketmouth of all time was yanked from some serious slop.
---
Hydrobike Explorer Fishing Strategy
Keep it simple. Perfect your techniques and strategies and make them repeatable.
Learn to read water color, clarity, and conditions. Get good then get fast. Learn to think like a fish.
Stick to the program, stick to the patterns. It's a process that will earn you bragging rights. Position yourself in a structure made in heaven hot spot housing the big 3 … rocks, logs, & weeds in close proximity to the dark drop off depths.
Don't move, don't breath, flip, toss, twitch, jerk, shake, concentrate, repeat, then move on.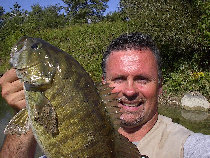 Do it again. Be camera ready. Your next stop … your next cast could produce that one selfie Harvey Wallhanger money shot you don't wanna miss.
Till next time. Tight lines, rip it high, rip it hard. Fish on! Always catch and release.
So says the Hydrobike Guy, John Rakush
Special Thanks to; Mr. Ray Buresch, Inventor of the legendary Hydrobike Explorer, Mister Twister, & Rapala.
For comments, or more tips on Hydrobike Explorer Fishing contact john@hydrobikes.com
Learn more about Hydrobike Explorer at www.hydrobikes.com
See fish pictures at my Pinterest Page