Greetings!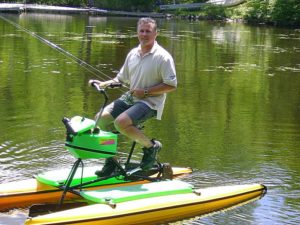 "I Am 100% Committed To Giving You The Best Price & Service On Our Hydrobike Water Bikes!"  
John Rakush, Hydrobikes Inc.
Contact me at 1-888-403-9012, or john@hydrobikes.com for current best pricing, senior's, and volume discounts!
You should be hesitant to purchase products on the internet from a guy you've never met before.  Many were once in your shoes.
John,
"My dealings with you and your product has been a pleasure.  Thanks for making it possible. You are a great business man dealing in a fantastic product!"  Dave Trusty, Texas
John,
"Thanks so much for your quick responses, I've never dealt with anyone who gave such great customer service." B. Tode, Lake Vermillion Minnesota
My Customers Are My Best Asset!  Hear what they say!
How To Start A Hydrobike Rental Business And Earn Outstanding Profits!
I started in the Hydrobike rental business over 20 years ago.  I'll show you how this water bike rental business will put you in your local spotlight and earn you outstanding profits.  Entrepreneurs, Current Rental Outlets, Resorts, Camps, Marinas, Water Parks, Watercraft Dealers, Prospective Dealers, will hit the ground running with my comprehensive Hydrobike PDF Marketing Guide, 'Profiting With Hydrobikes'.  Profit from a Hydrobike water bike rental business at your facility, or rental location.  Hydrobikes at your park, resort, or place of business will keep your customers coming back, attract new customers, and help drive your profits.  Contact me to learn more or to get started.  Once you commit to the business, I'll be here to help you succeed!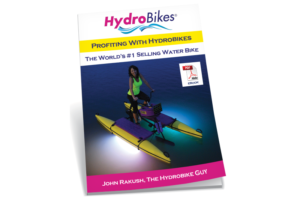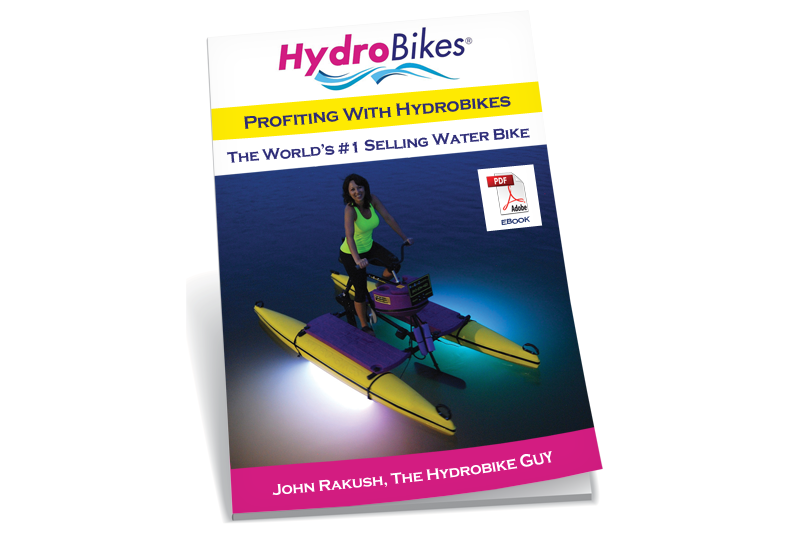 Over The Years I've Worked Hard to Gain Your Trust
Rest assured that I've always put my customers first.  They are the best advocates for Hydrobikes and I owe all my successes to them.
My goal is to deliver on promises,  and take the worry out of your Hydrobike buying decision.
For those who don't know me, I don't expect you to take my word for it.  Perhaps reading more of my customer's comments may help.
One thing is for sure; I absolutely love Hydrobikes and I know you will too!
I'm Here To Help With Your Water Bike Purchase – Join The Hydrobike Revolution!
I'm here to help you make the best decision and put you in a brand new Hydrobike water bike at the best price.  Thousands of consumers and rental operators worldwide are enjoying the benefits of our unique water bicycles.  The word is spreading.  That word of mouth alone has helped us put Hydrobikes in 74 countries.  A water bike movement is underway.
Join the Hydrobike Revolution and enjoy all the benefits that thousands around the globe have discovered in their real biking on water experiences with Hydrobikes.
I hear from people daily who love their Hydrobikes;
"I love my HydroBike and consider it in the category of one of the greatest purchases I have ever made in my life." ~ Robert Thayer, Illinois
This kind of praise has become common.  Hydrobikes are premier USA built water bikes that have become synonymous with family fun and fitness on the water.  Our water bicycles will provide many years of eco-friendly family fun, and fitness for everyone from 8-80.
Call me at 1-888-403-9012, or send me an email at john@hydrobikesontario.com to learn more about our water bicycles or to make a purchase.
John Rakush, The Hydrobike Guy
Director, Global Sales, Rental Opportunities, & Business Development
Hydrobikes Inc.
Phone: 1-888-403-9012
Email: john@hydrobikes.com
*For Hydrobikes in Canada, call 1-888-403-9012, or email john@hydrobikes.ca.
For Hydrobikes in the US, call 1-888-403-9012, or email john@hydrobikes.com