Hydrobikes: Eco-Friendly Fun & Fitness. Burn Calories Instead of Gas!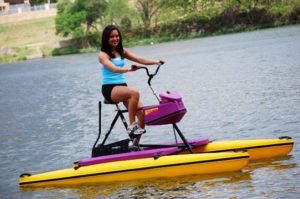 "According to Frank Katch, Professor of Exercise Science at the University of Massachusetts, & Victor Katchwater, Professor of Movement Science at the University of Michigan, moderate water cycling (about 60% maximum) burned an average of 546 calories per hour. The caloric burn is 8% greater than outdoor bicycling at a speed of 10-12 miles per hour."
"You don't have to be an Olympic athlete to reap the benefits of water cycling, recreational water cyclists burn as many calories as skaters, kayakers, high-impact aerobic participants, even joggers." John Howard, Three time Olympian
Hydrobike water bikes are built for your family's water fun & fitness. In fact, water bikes provide a low impact fitness activity with aerobic benefits. Our water bikes are the perfect fit if you are looking for an alternative and fun way to lose pounds and inches while enjoying your favorite waterway.
Hydrobike Health, Fitness, & Wellness Benefits
Gentle low impact aerobic workout
Total body workout
Overall Wellness, Relaxation, Peacefulness for the Soul
Minimum effort required for high level result
Helps improve muscle flexibility and range of mobility
Improves circulation
High calorie burn as you are working largest muscle group (thighs)
Lose pounds, lose inches, firm and tone muscles with regular use
Water cushioned ride reduces or eliminates the spine jarring effects of road biking
Great activity for those with lower back pain or problems
Strengthens and tones thigh muscles and hamstrings
Strengthens and tones calf muscles
Strengthens and tones upper arms and chest
Upright sitting position helps to tighten back and abdominal muscles
Abdominal muscles can be targeted further by focusing on tightening while riding
150 lb. Woman, one hr. of exercise:
Walking: 2 mph – 190
Walking: 4 mph – 352
Swim, moderate: – 414
Water aerobics: – 270
Paddle boating: – 270
Kayaking: – 342
High impact aerobics: – 476
*http://www.healthstatus.com/calculate