Water bikes by Hydrobike are the world's #1 selling water bike.  Since 1990, our USA built Hydrobikes have become synonymous worldwide with premier quality family fun and fitness on the water.  Order your water bikes today to enjoy Hydrobikes in time for summer.  Call 1-888-403-9012 or email me at john@hydrobikes.com to avoid lead times frustration.
Hydrobike Water Bikes in Canada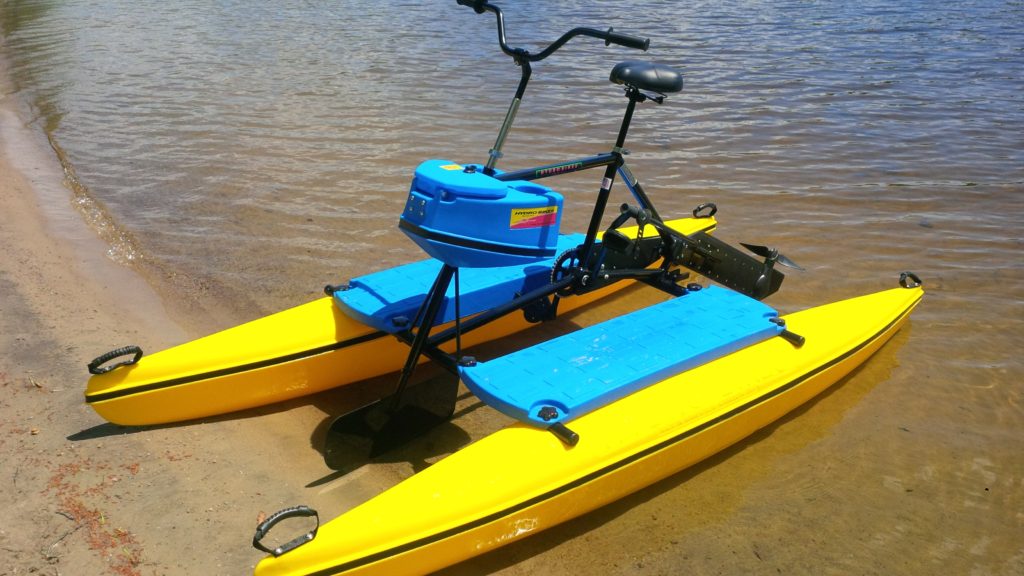 Water Bikes By Hydrobike Are USA Built 
Our water bikes are the world's first.  Hydrobikes water bikes are now enjoyed by tens of thousands of water recreation enthusiasts and rental outlets in 74 countries and counting.  Our first water bike was built in 1990.  Hydrobike water bikes are easy to operate, easy to maintain, and built to last!  Everyone from 8-80 enjoys Hydrobikes.
Seniors love our water bikes!
Eco-Friendly: Pedal Propelled, Faster Than Kayaks.  A Fun Way To Stay Fit, Fish, And Enjoy Aquatic Life
Hydrobikes have no motor, create no pollution, leave no carbon footprint, and are whisper quiet.  In addition, they are easy to ride with no skill required.  You won't disturb wild, or aquatic life.  Our premier quality, water bikes are for family fun, fitness, and your environment.  Hydrobikes are great for fishing too!
Resorts, Rental Operators, Entrepreneurs:  Proven Profits 
Enjoy a unique, high profit addition to your current rental fleet, or start a unique, proven high profit business.  Hydrobike water bikes attract customers and keep them coming back.  Our water bikes appeal to riders of all ages.  They are the number one choice over kayaks, canoes, and SUP's.
Shipping Factory Direct To Your Door
We ship our water bikes direct from our Iowa factory to your door throughout the US, Canada and Internationally.  We can refer you to a Hydrobike dealer near you.   Join our Hydrobike family today!

Hydrobike water bikes have become synonymous worldwide with eco-friendly pedal powered family fun and fitness on the water.
Hydrobikes Are The World's Longest Lasting Water Bikes!
Hydrobikes are famous for long life and trouble free operation. Many of our first water bikes are still gracing waterways 20+ years later. That reliability along with the Hydrobike fun & fitness benefits make our customers the greatest advocates for our product.
NASA Engineer Endorsement; "What a fantastic machine!"
I have worked as an engineer at the Kennedy Space Center in Florida for the past 26 years. I had been looking for a pedal powered water bike for some time and researched the various models that were commercially available and finally decided on the Hydrobike. It is even better than I had imagined!
Whoever designed this water bike thought of every little detail. Everything went together perfectly. I weigh about 235 lbs so I was worried about stability. No problem at all. I can stand on one pontoon and the bike is still completely stable. It is really fast and easy to handle. It was almost effortless.
What an incredible machine! It handled the rough water with no problem, went into the wind easily and was a pleasure all round to use. The designer thought of everything! Jim Myers, Florida
Reviews
John: "I love my Hydrobike and consider it in the category of one of the greatest purchases I have ever made in my life." Robert Thayer, Illinois
"I personally believe that the Hydro-Bike Explorer is the most revolutionary concept in cycling since the mountain bike, and would highly recommend it as a very safe and fun watercraft; a wonderful alternative to cycling on busy streets." Randy Schellenberg, CYCLE TIME Products, Vernon, BC
Read Hydrobike Customer Reviews
How to Contact Hydrobikes
In Canada
Hydrobikes Canada
Stoney Creek, ON Canada
L8E 3C7
PH: 1-888-728-9138
john@hydrobikes.ca